by Linda Rodriguez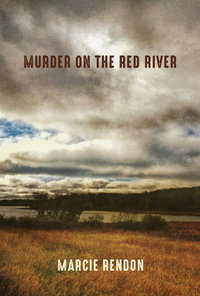 My guest today is Marcie Rendon, whose debut mystery novel, Murder on the Red River, is receiving critical praise and was just translated into German.
I'm particularly interested in Marcie's work because there are so few Native writers of mysteries, and I thought our readers would be, as well, so
I asked Marcie to answer some questions that I thought you readers might be interested in. Please welcome Marcie Rendon to The Stiletto Gang.
Cash and Sheriff Wheaton make for a strange partnership. He pulled her from her mother's wrecked car when she was three. He's kept an eye out for her ever since. It's a tough place to live—northern Minnesota along the Red River. Cash navigated through foster homes, and at thirteen was working farms. She's tough as nails—Five feet two inches, blue jeans, blue jean jacket, smokes Marlboros, drinks Bud Longnecks. Makes her living driving truck. Playing pool on the side. Wheaton is big lawman type. Maybe Scandinavian stock, but darker skin than most. He wants her to take hold of her life. Get into Junior College. So there they are, staring at the dead Indian lying in the field. Soon Cash was dreaming the dead man's cheap house on the Red Lake Reservation, mother and kids waiting. She has that kind of power. That's the place to start looking. There's a long and dangerous way to go to find the men who killed him. Plus there's Jim, the married white guy. And Longbraids, the Indian guy headed for Minneapolis to join the American Indian Movement.
Marcie R. Rendon is an enrolled member of the White Earth Anishinabe Nation. She is a mother, grandmother, writer, and performance artist. A recipient of the Loft's Inroads Writers of Color Award for Native Americans, she studied under Anishinabe author Jim Northrup. Her first children's book is Pow Wow Summer (Minnesota Historical Society Press, 2014). Murder on the Red River is her debut novel.
You've written
award-winning children's books. What was the toughest part of
switching genres to a mystery?
I love to write so I
really didn't have a problem switching genres. I haven't quit
writing for children. My children's books are non-fiction. I find
them harder to do because I want to accurately portray the families
and their children and the story. With fiction I can just make stuff
up.
How does writing for
adults differ from writing for kids?
When writing for children
there exists standardized word lists appropriate to each reading
level. With adults I don't have worry about that. I actually think
that Native American children and other children of color have a
greater understanding of some hard, real life situations and that the
industry needs to not be so leery of addressing some issues. With
adults you can write what you want. I consciously attempt to write
all of my stories in a way where people can see their resilience over
trauma, whether that is for children or adults.
What was the hardest
part of writing this book for you?
It was a fun and enjoyable
book to write. There wasn't really a hard part to the writing of
it. It did take a while to find a publisher and I didn't get an
agent before I found a publisher. Hopefully, that will be easier with
this go-round of the next book.
Also, the book is set in a
time before cell phones and DNA analysis so I didn't have to worry
about my lack of knowledge in those areas.
During the editing process
I discovered that I had given every bartender in every bar the same
name and had to go back in and re-name folks. Catching those kinds of
errors required reading and re-reading and an outside eye. Thank
goodness for a good editor.
What are some of your
favorite fictional characters?
Lucas Davenport and Jack
Reacher, Alex Delaware and his wife. Milo in the Coben books.
What has been your
journey as a writer? Did you always want to be a writer?

I have always written
since learning to write but you know, as a Native woman, I was never
told that making a living as a writer was an option. During my early
adult years we were all supposed to be doctors or teachers or lawyers
and work for our people. So, I got a bit of a late start on the novel
writing but I figure there is still time to crank a few out.
What has been your
biggest surprise with this debut mystery?
I am surprised by people's
attachment to the characters in the story. Readers 'want' certain
things for Cash and they let me know what they want for her. People
are curious about the children in the story and want to know what
happens to them. When I write, the characters are real to me – I
was surprised that they are as real to so many of the readers also
and that they are invested in their lives/their story.
What do you wish
someone had told you before you ever started writing?
To sit my ass down and
start cranking out books decades earlier.
I also wish that there
were more affordable writing conferences that Native writers could
attend. There is a business side to writing that I still am not that
savvy about. How do I get someone to read my contracts? How do I know
who a good agent is? Should I shell out money to have someone read
and critique my manuscript? Who 'should' I know in the business?
The whole publishing industry is not readily accessible to someone
who is just writing. I think if you work in academia you have a few
more doors at the ready to open, but I could be wrong about that
also.
https://www.thestilettogang.com/wp-content/uploads/2017/10/murder2Bon2Bthe2Bred2Briver.jpg
296
200
Linda Rodriguez
https://www.thestilettogang.com/wp-content/uploads/2022/03/TheStilettoGang-logo-09.png
Linda Rodriguez
2017-10-20 00:30:00
2022-07-05 17:57:08
Guest Interview with Marcie Rendon, author of MURDER ON THE RED RIVER