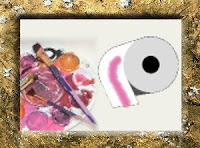 This past Saturday night, my good friends (and former Stiletto Gang guest posters) Tina Jordan and Ted Hindenlang hosted the most fabulous book signing party for me at their home in our little Village. It was a fabulous night. Tina and Ted live in one of our Village gems—a 1918 Colonial that Tina has lovingly decorated with thrift store finds, tag sale treasures, some new stuff, and other things that came with the house, including a gorgeous baby grand piano that she has tried in vain to sell on Craigslist. One problem? Well, apparently nobody wants it . (Or maybe they don't want to move it.) Other problem? Oldest daughter, M., has suddenly found a love for it and playing it. Tina got a mini-recital Saturday night prior to our arrival. But I have to describe to you this lovely home and all of the treasures inside. Because Tina's got that decorating style that I just can't pull off and everyone who came in marveled at. There was tremendous oohing and aahing over the finds that she has picked up over the years, knowing exactly where each and everyone was going to go in the house and what purpose it would serve.
Tina's got the "eye", as I call it. I don't have it. And few do, I've decided.
My good friend and Village librarian, Mary, remarked that she picked up a antique milk crate at a tag sale. She loved it. Brought it home. And then wondered, "What in Sam Hill am I going to do with this?" But fortunately for Mary, like me, she watches a lot of the Food Network. She watched as Tyler Florence (one of our favorite chefs—maybe because he makes so much meat with such loving care?) took his old, antique milk crate, wadded up his dish towels and stashed them in the crate on his counter, never having to search through the elusive junk drawer for a towel to sop up whatever mess he had made while lovingly making that beef tenderloin. Mary was inspired. Her milk crate now sits on her counter, stuffed with a mélange of brightly-colored towels, always at her disposal.
I love the idea of tag sales and thrift stores and going up and down the streets of Cold Spring, a little Village a bit to the north of here with store after store of treasures and antiques. But I see things and I don't know what to do with them. A beautiful gilt mirror with just a tiny crack in the corner? I would love it. Somewhere. Anywhere. But I know I'll get it home, hang it somewhere and look at it and think, "why did I buy that? It's a cracked mirror." Then I'll see something like it in someone else's home where it will look like it was made exactly for the wall where it has been hung. I won't notice the crack, but I will notice the beautiful gilt and how it fits the wall perfectly.
My mother and father recently gave us one of what is apparently part of a famous series of "toilet paper oil paintings." Hey—the guy was on Oprah. He's famous. Ours is a predominantly blue winter scene that was painted in five minutes in a Catskill lodge in the 1970's by a man who has made a fortune from these paintings. I tried hanging it in our dining room, where we had a big expanse of wall that needed a big piece of art. Unfortunately, Jim and I lack the appropriate "kitsch" gene to pull off the hanging of this art and it is now hanging in my attic office, seen only by me and appreciated only by me. This was part of the 70's décor of my youth and fit in perfectly with everything else—shag carpeting, plastic slipcovering, and the like. But today, I can't pull it off. Mom has made me promise that before the toilet paper oil painting goes the way of many other things in my home (the Goodwill store), I'll give her one last crack at finding a home for it. Good luck, Mom. And good luck to toilet paper oil painting. I can't say I'll miss you. The only person I know who could make the painting work is Tina. I may have her do an intervention before the painting goes back to Mom. Maybe it just needs a new frame?
And another thing about Tina and the book signing party: she works full time, has two children, two dogs, and a very busy life. And her tree was up, decorated, with other holiday decorations scattered throughout her house so that the whole effect was like being in a holiday wonderland, populated by many of my dear friends, all clutching copies of "Quick Study," waiting to have them signed.
Who's luckier than I am? You don't have to answer that. I don't know a luckier person alive right now.
But here's my question and I welcome my Stiletto gals' input on this (because I know they have some), what is it about some people that they see treasure when the rest of us just see junk? And do you have the gene to pull this off, or are you like me, queen of the "matchy-matchy"?
Maggie Barbieri
https://www.thestilettogang.com/wp-content/uploads/2008/12/tppaintingbest.jpg
148
200
Stiletto Gang
https://www.thestilettogang.com/wp-content/uploads/2022/03/TheStilettoGang-logo-09.png
Stiletto Gang
2008-12-17 05:00:00
2022-07-05 19:17:28
Lacking the Decorating Sense