Hi – Newbie to the Stiletto Gang here!
Joining a busy, successful blog is a bit like stepping into
a cocktail party that's going full blast. Bubbling conversations, inside jokes,
and shared history. What do you do? You paste a smile on your face and dive
right in!
I'd planned to carry that analogy through this post, but I
took a left turn at abnormal this morning and waded through a ton of mud and
downed trees to make sure the beaver dam hadn't ruptured.
Hmm, that's a different story.
Perhaps I should back up a bit. I live in the Cascade
Mountains, up above Seattle. Before we moved to the mountains, we transferred
to Washington (well, actually we transferred to a small town in eastern
Washington) from South Carolina.
When people heard about our
planned move, everyone said, "I love
Seattle."
Because clearly Seattle is the only thing in Washington,
right?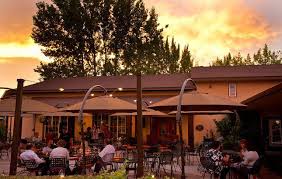 Bookwalter Winery ~ http://innovatewashington.org/
We love Seattle too. But there's the whole
rest
of the state.
Eastern Washington is the complete opposite
to Seattle. It's conservative, sunny and dry, and home to fabulous vineyards
and wineries.
There's access to tons of
outdoor recreation…and a dearth of restaurants.
As an author, I often see conversations, characters (oops, I mean interesting people I encounter), and
settings in terms of story potential. And I knew there was potential here.
Once we settled into eastern Washington, I had to write a story set here. A story about a woman who came
home, not as a failure with nowhere else to go, but as a woman who loved her
nutty parents and put her ambitions on hold to bail out the family and their business.
Then because I write mysteries, there had to be a dead body and a puzzle for my amatuer sleuth to solve!
Besides, I could have fun with the wineries, Native American casinos…and assorted farm animals.
So – ever been to Washington? Ever had a flood tear up your
property?
My latest book released last week.
So About the Money
romps through eastern Washington. Or as Patty Smiley, author of the
Cool Cache
series said, "CPA Holly Price juggles dodgy clients, flakey parents, ex-lovers and a murdered friend before she gets to the bottom line in this fast and fun read."
When Holly Price trips over a friend's dead body, her life takes a nosedive into a world of intrigue and danger. With an infinitely sexy cop—Holly's pissed-off, jilted ex-fiancé—threatening to arrest her for the murder, the intrepid accountant must protect her future, her business…and her heart…by using her
investigative skills to follow the money, before the killer decides "CPA" stands for Certified Pain in the Ass…and the next dead body is Holly's.
Visit with Cathy at her website http://cperkinswrites.com
https://www.thestilettogang.com/wp-content/uploads/2015/11/IMG_2401.jpg
240
320
CathyP
https://www.thestilettogang.com/wp-content/uploads/2022/03/TheStilettoGang-logo-09.png
CathyP
2015-11-19 16:04:00
2022-07-05 18:12:03
The Newbie and the Mud Flood