Clicking Our Heels – Theater Anyone?
Clicking Our
Heels –Theater Anyone?

Monthly Clicking Our Heels Giveaway:
To enter for a chance to win a set of her 3 mysteries from Kay Kendall or a book by Shari Randall (2 winners) comment below on the blog with what your favorite show is. Good luck and happy reading!
— winner will be announced next Wednesday on The Stiletto Gang Facebook page
– https://www.facebook.com/stilettogang
There isn't a
member of the Stiletto Gang who doesn't love books and writing, but what about theater? Do we love theater, too, or do we hate it? If we love it, what are our
favorite shows? This is what we think – how do you feel about theater?
Debra H. Goldstein – I love theatrical productions – especially musicals. When I was
four, my parents took me to a production of The
King and I at the Paper Mill Playhouse in New Jersey. If I proved I could
sit through the show, they promised they would take me to shows in New York.
Passing the test permitted me to see most Broadway musicals and many dramas in
the seasons that have followed. Some of my favorite shows include 1776, Come From Away, Company, Hamilton, and South Pacific.
Julie Mulhern – The performing arts have always finished a distant second for
me. I'd much rather go to a museum or read a book.
Judy Penz Sheluk – I don't get to the theater much, but I'm looking forward to
seeing Come From Away in November. My
favorite plays to date are probably Cats
and La Cage aux Folles. I saw them
ages ago, but I still remember them as if I saw them yesterday.
J.M. Phillippe – Growing up, I went to plays, musicals, and even some operas,
but I have to say that seeing Shakespeare live – pretty much any production –
was always my favorite. I had the greatest familiarity with the source material
and watching different people interpret it really made me see it from different
perspectives over the years.
Juliana Aragon Flatula – Thompson Highway wrote The
Rez Sisters and I loved being cast in that play about Indigenous Women. A
comedy with a tragedy ending and a death song.
Dru Ann Love – I love the theater, especially musicals. My favorite all time
is probably Hello Dolly and I saw it with Pearl Bailey,
Carol Channing and Bette Midler. Of course, I love the movie version with
Barbra Streisand.
Kay Kendall – Whenever I go to New York City for meetings, I always go to at
least one show on Broadway. I read the art section in the New York Times daily so I am always up on what's doing and am able
to pick great shows. I saw The Producers
in previews, the week before its opening. Stellar entertainment. Although I'm
not one to see anything a second time, for this I would have sat right back
down and watched it a second time, right after the long standing ovation ended.
My other vivid memory is being in the fifth row center for Mama Mia in its
first month. Beside me sat three gay men from San Francisco. Chatting with them
and whooping it up during this marvelous show doubled my fun.
Cathy P. Perkins – While I loved classical music, I never warmed to opera, until I
saw Miss Saigon. I sat mesmerized on
the edge of my seat for the entire performance. I passed this love to my
children, who picked it up I different ways. While studying in Italy, my oldest
discovered the joy of opera performed in outdoor theaters that date back to
Roman times. My youngest performed on stage for several years, including a
small role in an opera.
AB Plum – Les Misérables is my
all-time favorite theater production, but the opening of Lion King still wows me.
On my to-see list: Wicked.
TK Thorne – Growing up, my father was on the board of the "Little Theater"
in my hometown, so we went every time there was a production suitable to my
age. I loved the dramas, but musicals bored me. Now I enjoy both, amused at the
many things I didn't like as a child – squeaky violin music (give me piano),
stuffy roses and tulips (give me pansies and daffodils), bitter fresh asparagus
(give me canned asparagus, mushrooms, and ravioli – yuck!). Now I have embraced
the stately formality and complexity of roses, the piercing, haunting voice of
the violin, and almost every fresh vegetable. Life is change.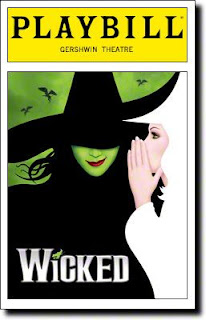 Paula Gail Benson – Oh, yes! Definitely musicals, usually my favorite is the lyrics
of the one I'm singing in my car. The relationship between Elphaba and Glinda
in Wicked is unique and "For Good"
describes the relationship I have had with close friends. But, I adore the concept
of Something Rotten and look forward
to someday seeing Hamilton.
Shari Randall – I adore theater! I grew up with an aunt who took me and my
sisters to the opera and Broadway shows. I lived in CT and my friends and I
used to hop on the train or bus to NYC, getting standing room or half price
show tickets at the TKTS booth in Times Square. Those were the days – see a
show and grab a hot dog at Nathan's or spaghetti at Mama Leone's. I saw Chorus Line, Jennifer Holliday in Dreamgirls, West Side Story, Annie, Phantom… My favorite show? So hard to
choose! Evita? Wicked? Maybe it's Les Misérables
– I've seen it three times and I still cry every stime.
Linda Rodriguez – I saw Aida twice on
Broadway. The first time was the night before opening night, and it was
breathtaking. The second time was almost a year later. We had wanted to see
another play when we were in New York, and those tickets were not available. We
caught tickets to Aida at the last
moment, and it was still mesmerizing and wonderful.
Bethany
Maines – I have loved almost every live theater show I've ever seen. I love
humans being creative and displaying their talents. It's magical. But I
wouldn't describe myself as a theater buff. I don't know enough. But probably
my favorite theater show was Chicago,
which I saw on Broadway in New York. The talent was amazing and we were sitting
so close to the stage I could see them sweat. I loved every minute of it.
https://www.thestilettogang.com/wp-content/uploads/2019/02/Hamilton2Bplaybill.jpg
320
202
Debra
https://www.thestilettogang.com/wp-content/uploads/2022/03/TheStilettoGang-logo-09.png
Debra
2019-02-06 06:00:00
2022-07-05 17:41:44
Clicking Our Heels – Theater Anyone?