Cover Reveal–Every Last Secret
by Linda Rodriguez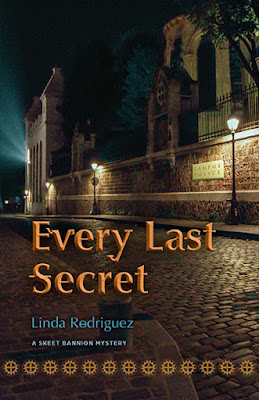 I'm excited to announce that on Tuesday, September 7th, the first of my Skeet Bannion mystery novels, Every Last Secret, will be re-released in ebook and trade paper format in a new edition with new covers. This is a thrill, especially, because readers have asked for a paperback version of these books for a long time, and my former publisher would not bring them out in that format. All three of my Skeet Bannion mysteries will be released with new covers in these new formats as a prelude to the launch at the end of the year of the 4th Skeet Bannion mystery, Every Family Doubt.
This is the book that first introduced Skeet Bannion, Cherokee campus police chief in a small river town and former Kansas City, Missouri, homicide detective. Skeet has left the big city and come to this bedroom community to escape her drunken and disgraced policeman father and her ex-husband, who refuses to give her up. She's tired of the grim toll that being an urban homicide detective has taken on her and is looking forward to a more peaceful existence in this quiet, little town.
Still, murder happens everywhere, and when it happens in her town and on her campus, Skeet moves back into the investigative mode and obsession with justice that made her one of the most successful big city homicide detectives and the highest ranking woman in that police force before she resigned. No one kills someone on her watch and gets away with it scot-free. Little does she know that this case will change her entire life.
I hope the many fans of these mysteries will enjoy this peek at the new cover of the first of them. Keep an eye out for the new edition of Every Last Secret in paperback for the first time, coming Tuesday, September 7th.
Linda Rodriguez's 12th book is The Fish That Got Away: The Sixth Guppy Anthology. Her 11th book was Fishy Business: The Fifth Guppy Anthology (edited). Dark Sister: Poems was her 10th book and a finalist for the Oklahoma Book Award. Plotting the Character-Driven Novel, based on her popular workshop, and The World Is One Place: Native American Poets Visit the Middle East, an anthology she co-edited, were published in 2017. Every Family Doubt, her fourth mystery featuring Cherokee detective, Skeet Bannion, and Revising the Character-Driven Novel will be published in 2021. Her three earlier Skeet novels—Every Hidden Fear, Every Broken Trust, Every Last Secret—and earlier books of poetry—Skin Hunger and Heart's Migration—have received critical recognition and awards, such as St. Martin's Press/Malice Domestic Best First Novel, International Latino Book Award, Latina Book Club Best Book of 2014, Midwest Voices & Visions, Elvira Cordero Cisneros Award, Thorpe Menn Award, and Ragdale and Macondo fellowships. Her short story, "The Good Neighbor," published in Kansas City Noir, has been optioned for film.
Rodriguez is past chair of the AWP Indigenous Writer's Caucus, past president of Border Crimes chapter of Sisters in Crime, founding board member of Latino Writers Collective and The Writers Place, and a member of International Thriller Writers, Native Writers Circle of the Americas, Wordcraft Circle of Native American Writers and Storytellers, and Kansas City Cherokee Community. Learn more about her at http://lindarodriguezwrites.blogspot.com
https://www.thestilettogang.com/wp-content/uploads/2021/08/Every-Lat-Secret-cover-front-web.jpg
400
259
Linda Rodriguez
https://www.thestilettogang.com/wp-content/uploads/2022/03/TheStilettoGang-logo-09.png
Linda Rodriguez
2021-08-06 14:51:00
2022-07-05 17:11:11
Cover Reveal–Every Last Secret