Love and Humor is in the Words

Love and Humor is in the Words
by Debra H. Goldstein
Valentine's Day and love is in the air. Cards and
chocolates are flying off the shelves; flowers are being delivered. Here and
there, on bent knee with ring in hand, there are even a few proposals of
marriage being offered and accepted. It's nice, but sometimes, there's fun to
be had at the expense of "love." That's exactly what I do in my upcoming Sarah
Blair book, Five Belles Too Many.
I will admit that my NY editor loved the book and I giggle
just thinking about different things in it. The premise of a reality show where
the prize is a perfect wedding is simple. The complications are that the story
is set in fictional Wheaton, Alabama and the wedding is being dubbed the
perfect Southern wedding. Although different vendors are vying to be chosen for
their invitations, flowers, food, and venue, the conflict comes from the
finalists.
There are five finalist couples, who each represent a
different segment of the population or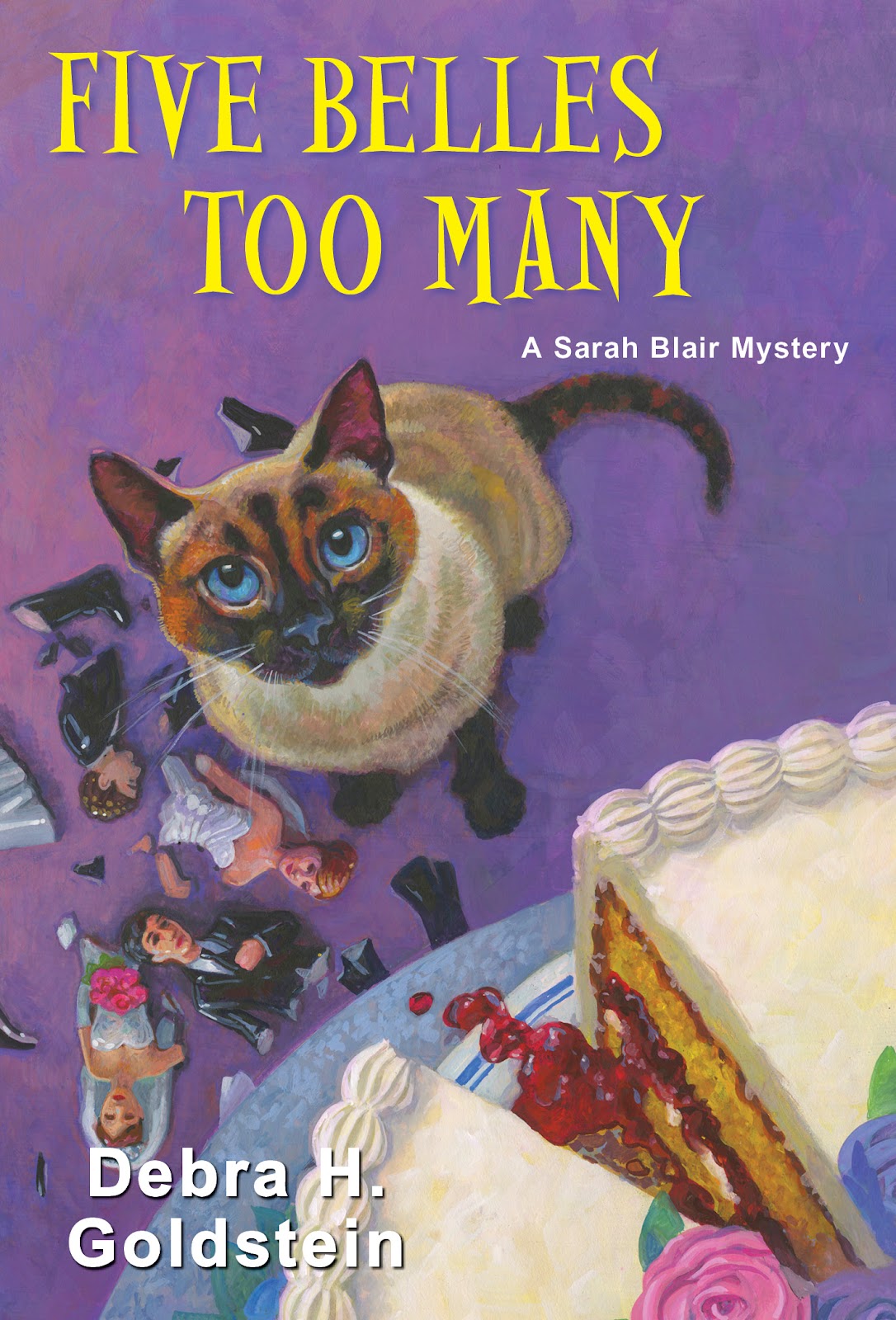 demographic. Being Alabama, there must
be a couple who pull for Alabama and another who are die-hard Auburn fans.
Mixing things up also requires a pure as the land couple (think Beverly
Hillbillys) and one with a more goth edginess. The fifth couple is the charmer,
though. That couple is Sarah Blair's sixty plus mother, Maybelle, and her
friend, George, who is a decade older than Maybelle. If you've read earlier
Sarah Blair books, particularly Two Bites Too Many,
you know Maybelle is feisty and well able to care for herself; but, all belles
in the competition must have a chaperone.
That's where Sarah come in. It seems silly to have a sixty
plus bride-to-be with two grown daughters chaperoned, but rules are rules. So,
twenty-eight-year-old Sarah is drafted as her mother's chaperone. And that's
where the fun and humor begin.
Although I may be prejudiced, Five Belles Too Many
was the most fun to write and one I think will keep you chuckling while also
enjoying the more serious plotline. Five Belles Too Many
will be published in June 2022 but is already available for pre-order.
One of the reasons I think I enjoyed delving into the reality show world was
that years ago, I was a Jeopardy contestant (and no, I didn't have a streak
like Amy's). Were you ever on a reality show?
https://www.thestilettogang.com/wp-content/uploads/2022/02/love-and-humor-is-in-words-1386685542.jpeg
201
238
Debra
https://www.thestilettogang.com/wp-content/uploads/2022/03/TheStilettoGang-logo-09.png
Debra
2022-02-11 07:00:00
2022-07-05 17:01:36
Love and Humor is in the Words