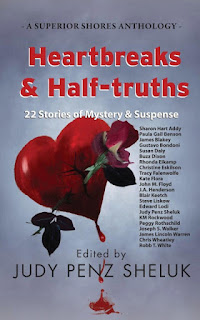 I'm very proud to be among the authors whose stories are
in Heartbreaks and Half-truths, an
anthology selected (from over 100 submissions) and edited by Judy Penz Sheluk,
noted for her novels, for her anthology The
Best Laid Plans (2019), and for recently being elected the new chair of
Crime Writers of Canada Board of Directors. Available on June 18, 2020, Heartbreaks and Half-truths features
tales from different time periods and locations, all considering how half-truths
contribute to heartbreak and often lead to other consequences.
Here's the description of the anthology found on Amazon,
where it may be pre-ordered as Kindle or Paperback:
"Whether it's 1950s Hollywood, a scientific experiment,
or a yard sale in suburbia, the twenty-two authors represented in this
collection of mystery and suspense interpret the overarching theme of

'

heartbreaks and half-truths

'

in their own inimitable style, where only one
thing is certain: Behind every broken heart lies a half-truth.
"And behind every half-truth lies a secret."
Following are brief summaries for each story, just to
pique your interest!
KM Rockwood, "Burning Desire"– a jilted
bridegroom gets a 50th birthday party and hopes for cash gifts to
pay off his gambling debts
Peggy Rothschild, "The Devil's Club" — a woman
being blackmailed by the man who helped her get rid of her abusive husband must
now find a way to be rid of the blackmailer
John M. Floyd, "Blackjack Road" — a man who lost
his family meets a stranger who makes him question his fate
James Blakey, "The Greatest Secret" — a PI
hired to track down a crime boss' wife's lover finds it difficult to reveal the lover's
identity
Edward Lodi, "So Long" — the story, told in a
series of phone messages, reveals the relationship between a woman and a doctor
intent on making her into his greatest experiment
Kate Flora, "Afterlife" — a new widow watches
out her window as a love triangle develops between two lobstermen and a
beautiful woman
Buzz Dixon, "Tongor of the Elephants" — a "lost"
film in a movie archive reveals an actor's death and more
J.A. Henderson, "The God Complex" — people
plugged into a quantum computer have the opportunity to relive the past, or a facsimile
of it
Christine Eskilson, "For Elizabeth" — unrequited
high school love has higher stakes when the two remain friends later in life
Robb T. White, "See You in Court" — a down on
his luck defense attorney has to prove his client's innocence after refusing to
be involved in a deal
Rhonda Eikamp, "In the Halls of Mercy" — the
chief psychiatrist becomes another inmate in his ward of patients
Sharon Hart Addy, "Near Warrenton" — a woman
hopes for some monetary support by tracking down a former lover
Tracy Falenwolfe, "Exposure"– a former cop
turned PI is hired to find another suspect in a murder case, but he may have
some secrets closer to home
Paula Gail Benson, "Living One's Own Truth," — in 1931, lives change at a boys' school due to a teacher's daughter bred
to be a heartbreaker and secrets among the faculty
Susan Daly, "Deep Freeze in Suburbia" — a new
member of parliament has no time to enjoy her success before a secret from her
past comes to light
Chris Wheatley, "The Angel of Maastricht" — a
reporter revisits a case as the convicted murderer completes his sentence
Joseph S. Walker, "Pink Hearts Pierced by
Arrows" — after promising her mother never to let a man make a fool of her, a
woman tries to help her friend with a cheating husband
Blair Keetch, "Deadly Cargo" — a pilot
narrates his strategy for killing his wife, but reality deviates from his plans
Steve Liskow, "Ugly Fat" — two women, both
dumped by their husbands, confer over the yard sale of one ex-husband's
personal items
Gustavo Bondoni, "Checkmate Charlie" — a
computer gaming system helps a wife to get rid of her husband
James Lincoln Warren, "The Short Answer" — two
1950s Hollywood PIs are mixed up with blackmail and murder
Judy Penz Sheluk, "Goulaigans" — a man returns an
empty canoe to the trading post owner, who stole the man's wife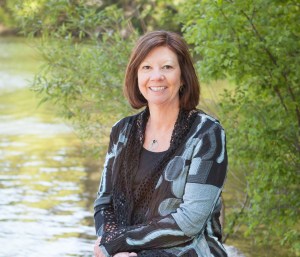 Judy Penz Sheluk
Whether you're sheltering in place or taking a
vacation, this volume is the perfect summer reading companion. Just pick up a
copy, relax, and enjoy it with your favorite beverage!
https://www.thestilettogang.com/wp-content/uploads/2020/06/Heartbreaks2Band2BHalf-truths.Cover_.jpg
320
200
Paula Benson
https://www.thestilettogang.com/wp-content/uploads/2022/03/TheStilettoGang-logo-09.png
Paula Benson
2020-06-15 00:00:00
2022-07-05 17:27:27
Announcing Release of the Heartbreaks and Half-truths Anthology!