Good Monday morning. I slept like the proverbial
rock last night. Perhaps it's because I spent the last month in flux—a weeklong trip to Colorado, followed by page proofs due in a week,
out-of-town company, followed by loading my car with
water bottles and pre-packaged snacks for my anticipated trip to Left Coast
Crime in Albuquerque.
Since
2020, like so many of my author colleagues, I haven't attended an in-person conference. But on this one, I signed up because I could drive from my home base in Las Cruces to the Duke
City. I already knew my schedule at LCC would be hectic. In addition to Mystery Writers of America, I belong to three Sisters in Crime chapters, Sisters in Crime Colorado, Guppies, and Croak & Dagger, the
New Mexico chapter, based in Albuquerque.
Left
Coast Crime is a 501(c)(3) nonprofit, which depends on a massive number of
volunteers to bring together writers, readers, librarians, reviewers, and others. https://leftcoastcrime.org/2022/ Croak & Dagger, as the Albuquerque host, was called on to supply
the heavy lifting of volunteers. I believe Molly Moeglein, Ann D. Zeigler, Johanna Egert, Joan Golden, Margaret
Tessler, Donna Thomas, Janet Gregor, Don Allen, Anne Hillerman, Merit Clark, Linda Triegel, Bailey Herrington, and throw myself into the mix were among the
many local volunteer contributors.
To top this off, when others dropped by the Hospitality Room and saw how swamped we were, my friends Leslie Budewitz and Barbara Nickless got to work helping filling out forms and donations!
Naturally,
other writing chapters, including Mystery Writers of America and Sisters in Crime sponsored events. Members affiliated with these organizations were
incredibly helpful in registration, author/reader tables, speed dating, room
and panel moderators, as well as the conference organizers Stan and Lucinda Surber who appear tireless in running this conference year after year. As
I was tasked with Hospitality and the Silent Auction, I didn't get to attend
many panels. This was disappointing, however, volunteer for Hospitality and the
Silent Auction, people come to you.
I
met so many I wouldn't have ordinarily met by being a mere author
attendee. What's more, I got 15K steps in on Thursday, 12K on Friday, 10K on
Saturday, and 5K on Sunday (four-hour trip home—give me a break!) Was it all
work and no fun? Hardly. I had the best roommate ever. Author Barbara Nickless
and I kept each other in stitches saying, "We'll go to sleep right after we
talk about this." Merit Clark, who I shared an author table and panel with, was
a tremendous friend, volunteer, and champion during the event. I also got to
meet The Stiletto Gang members Dru Ann Love and T.K. Thorne!
Merit
Clark was on the ball finding the restaurants we'd escape to after a long day.
Fell in love with The Artichoke Café and Season 52 (picture of a group of us
here—Alistair "Jerry" Kimble, Matt Goldman, Barbara Nickless, Merit Clark,
Shannon Baker, Mark Stevens, and myself). Special thanks to Matt Goldman for
driving my car back to the hotel after dinner (no, wasn't inebriated – I think he could
just sense I was exhausted and nervous about night driving in a strange city.)
I
also was on a panel called Graphic but Not Gratuitous, Getting Police Procedure
Right, [pictured here hidden behind her microphone, M.M.
Chouinard], Shannon Baker, Donnell Ann Bell, Merit Clark, and James L.
E'Toile.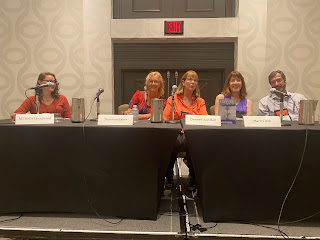 When authors took the stage on Saturday evening,
I'd already met many of them. I didn't get to meet the fabulous Kellye Garrett,
but after hearing her speak, and after more than $1,000 was raised that night
by attendees who wanted their name in her next book, I understand the
definition of "fan." Catriona McPherson is hysterically funny and gracious, and
one of the most moving, inspirational speeches I've ever heard (period) was given
by Wanda M. Morris, the winner of the Lefty Best Mystery novel. Following are
the Lefty award recipients. https://leftcoastcrime.org/2022/Awards.html

I
do not have the exact amount of money that was raised by the auction and silent
auction, (Kudos to Ellen Byron/Maria DiRico for being an outstanding
author/auctioneer) and Ann D. Zeigler's Great Little Library Adventure, but I'm
estimating $5,000 +/-, benefitting New Mexico's libraries (currently state
funded) are the beneficiaries of these proceeds.

After
dropping off the delightful T.K. Thorne at the airport, I headed home to Las Cruces
to celebrate what I'd missed by attending, namely my husband's birthday and our
39th wedding anniversary. I paused in listening to Robert Crais's Taken, to return a phone call to my friend Mike Befeler who ordinarily heads up the New Authors' Breakfast and who couldn't attend the conference due to knee surgery. Such a win/win ride home!

Still on the heels of Left Coast Crime, the fascinating and talented

Pamela Beason will be my houseguest as she
passes through on her touring adventures – all because we reconnected at Left
Coast Crime!

On a final note, I left that event tired but
inspired, and I know I barely skimmed the surface. Overall, though, I remain convinced I had the best room/seat in the house.

About: Donnell
Ann Bell is an award-winning author, including finalist in the 2020 Colorado
Book Award, and the 2021 New Mexico-Arizona Book Awards for her first straight
suspense Black Pearl, a Cold Case Suspense. Until Dead, a Cold Case Suspense,
will be released May 31, 2022, and is available for preorder. She is
currently working on Book Three and the start of another series. You can learn
more about her other books or find her on Facebook, Twitter, Goodreads, or
BookBub. Sign up for her newsletter at https//www.donnellannbell.com
https://www.thestilettogang.com/wp-content/uploads/2022/04/Season205220dinner.jpg.jpeg
240
320
Donnell Ann Bell
https://www.thestilettogang.com/wp-content/uploads/2022/03/TheStilettoGang-logo-09.png
Donnell Ann Bell
2022-04-11 12:09:00
2022-07-13 17:59:52
The Best Room in the House