Becoming a Phoenix Again and Starting Over
by Linda Rodriguez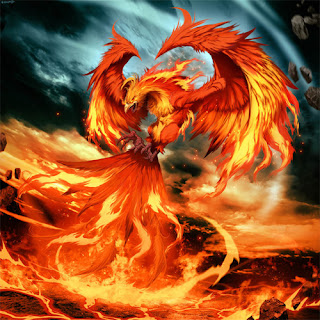 According to
astrology, I am a Scorpio. In fact, I am a quadruple Scorpio, which is about as
Scorpio as you get. The animals that symbolize the sign of Scorpio are three in
number, unusual or the zodiac, which normally only uses one animal to represent
each sign. Scorpio is represented by the scorpion, the eagle, and the phoenix.
The scorpion represents the lowest aspect of the sign, mostly the negative
elements in Scorpio, such as jealousy and vindictiveness. The eagle represents
the higher aspects of the sign, positive elements such as perseverance,
passion, and commitment. The phoenix, however, represents the very highest to
which the sign may aspire, inspiration, creativity, resurrection, and rebirth.
I often like
to say that I have lived a series of lives in this particular lifetime. It
seems to me that I go through the process of the phoenix with its fiery
destruction and rebirth periodically. I find myself in one of those phoenix periods
once again. I have been on hiatus from this blog for some time now, due to
serious health issues. Debra Goldstein has been kind enough to post older blogs
that I have written and published in my time slot while I have been away. She
has also functioned as an administrator, tending to many of the glitches and
organizational issues that plague any blog behind the scenes. I would really
like to thank her and Bethany Maines, as well as Cathy Perkins, or their
administrative work to keep the blog going smoothly.
The interesting thing about being in one of these
phoenix times in my life is that I never know where I will end up. A number of
years back, I was a long-time director of a university women's center.
Suddenly, I went down with several autoimmune diseases and found myself forced
to take an early medical retirement from the job that I was quite good at and
loved dearly. In many ways, this was like a death of someone very close to me and
entailed a great deal of mourning. I went from a position where I made a
positive difference in other people's lives to being virtually bedridden, and
when I finally managed to get well enough to move around, to being pretty much
confined at home, while I struggled with these terrible diseases. I knew I made
a positive difference in other people's lives, because often, as I walked
through a supermarket or a shopping mall, someone would come up to me and tell
me, literally, "You made a difference in my life," or "You saved my life." And
then, I was a semi-invalid, who hardly left the house at all, except for
multiple medical appointments. It seemed to me as if my life was truly over.
Once the flames died down, however, I began to create
a new life as a writer, one I had always wanted and never had the time or the
courage to pursue. That new life is where I have lived ever since – and been extremely
happy, as well as moderately successful in the eyes of the world. A couple of
years ago, however, my health started a downward spiral with cancer and the
terrible side effects of its treatments followed by a couple of terrible falls
that left me with permanent disability in my right shoulder and arm and a truly
frightening ratification of one of my autoimmune uses, which left me on daily
massive doses of steroids that continued through the years and seriously
weakened the functioning of my legs. I have felt for these last few years as if
someone out there somewhere had a voodoo doll of me that they were continuously
slicing and dicing. All of this has led to tremendously diminished strength,
heavy fatigue, and lots of pain, and trying to manage all of these problems, as
well as continue working freelance as a teacher and an editor in order to try
to keep afloat in the flood of medical bills, meant that I had little time or
energy for my own writing.
That is the gift of the phoenix, however – to rise anew
out of your own ashes. At the moment, that is where I feel I currently stand. I
don't know at the moment what shape or color this new life will take, but I can
feel it bubbling up within me, itching within my back where the new wings are
getting ready to sprout. I have been working with my fiber art, spinning,
knitting, weaving, in order to fill the creative well within, and now I am
experiencing that wonderful urge to start creating worlds and characters that
other novelists know well. So, it is truly an exciting time for me right now.
Here is a poem that I wrote during that last time of
my life when I was saying goodbye to my old career and old self and welcoming
the new career and self that I hadn't seen yet.
A PHOENIX,
SHE MOVES FROM LIFE TO LIFE
and leaves only the ashes of her old self
behind. She plunges into the dark
future from the glare of her funeral pyre
that brightens the sky of her past
for miles and years and leaves a legend
told to generations of children
of a vast golden one whose gleaming
body rose from the burning corpse,
blotting out the moon
with huge wings beating against
the burning air to lift the dead
ground to the living night sky
and fly through the moon
to a new place with new people
where she could be new herself—
until the destroyer strikes again.
Like a hunting eagle,
she lands, claws outstretched,
golden crest and feathers lost
in transit, her wings already disappearing.
She grows backward, smaller.
Now she can only crawl
into and out of shallow holes
in the ground of this new life.
Still, the wise avoid trampling her
for they know
she drags death behind her.
Published in Heart's
Migration (Tia Chucha Press, 2009)
When you hit periods of decline in your own life, do
you feel as I do that you are allowed a kind of rebirth and re-creation of
yourself? Do you have your own symbolic ways of thinking about those times in
your life?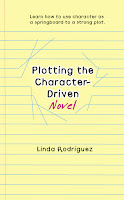 Linda Rodriguez's 12th book, The Fish That Got
Away: The Sixth
Guppy Anthology, is about to be published. Her 11th book was
Fishy Business: The Fifth Guppy Anthology (edited). Dark Sister:
Poems was her 10th book and a finalist for the Oklahoma Book
Award. Plotting the Character-Driven Novel, based on her popular
workshop, and The World Is One Place: Native American Poets Visit the Middle
East, an anthology she co-edited, were published in 2017. Every Family Doubt, her fourth mystery
featuring Cherokee detective, Skeet Bannion, and Revising the
Character-Driven Novel will be published in 2021. Her three earlier Skeet
novels—Every Hidden Fear, Every Broken Trust, Every Last Secret—and earlier books of poetry—Skin Hunger
and Heart's Migration—have received critical recognition and awards,
such as St. Martin's Press/Malice Domestic Best First Novel, International
Latino Book Award, Latina Book Club Best Book of 2014, Midwest Voices &
Visions, Elvira Cordero Cisneros Award, Thorpe Menn Award, and Ragdale and
Macondo fellowships. Her short story, "The Good Neighbor," published in Kansas City Noir, has been optioned for
film.
Rodriguez is past chair of the AWP Indigenous Writer's
Caucus, past president of Border Crimes chapter of Sisters in Crime, founding
board member of Latino Writers Collective and The Writers Place, and a member
of International Thriller Writers, Native Writers Circle of the Americas,
Wordcraft Circle of Native American Writers and Storytellers, and Kansas City Cherokee
Community. Learn more about her at http://lindarodriguezwrites.blogspot.com
https://www.thestilettogang.com/wp-content/uploads/2021/02/6Ty5kxkkc.jpg
320
320
Linda Rodriguez
https://www.thestilettogang.com/wp-content/uploads/2022/03/TheStilettoGang-logo-09.png
Linda Rodriguez
2021-02-05 01:30:00
2022-07-05 17:47:32
Becoming a Phoenix Again and Starting Over