The Cheese Guy by Lynn Chandler Willis
Several years ago, i was invited to participate in a book festival sponsored by a local, glossy magazine named after O'Henry. The festival was being held at a high-dollar, swanky hotel, also named after the famous writer.
I was still riding pretty high with my win for Best First Private Eye Novel given by St. Martin's Press and the Private Eye Writers of America. I was super excited to participate and still a little unbelieving that my work had won a major contest.
I happily accepted the invitation and got busy ordering bookmarks, and postcards, and posters for the big day. I worked with the publisher to make sure I had copies to sell. I sent out all kinds of announcements to my growing list of newsletter subscribers. I emailed cousins and uncles and aunts and friends from elementary school to high school.
When the big day finally came, I loaded my books into my rolling purple suitcase––which by the way, I still use––and headed to the premiere hotel in the area. When I got there, I was shown by a guy in a tux to the room where we'd be set up. The guy probably had some kind of title I couldn't pronounce anyway so I just referred to him as the guy in the tux.
The room was filled with other authors and for a moment I felt right at home. And then I noticed I was the only one who wrote mysteries. In fact, me, a children's book author, and guy who wrote fantasy were the only three authors present who didn't write literary. I'm talking Faulkner literary, or better yet, O'Henry literary.
I knew the guy who wrote fantasy. And I knew his work. We had belonged to the same local writing organization and were members of the same critique group. Fantasy guy wrote about dragons. Thirty of them to be exact. All with names containing 20-plus letters no one could pronounce. And they were all introduced in the first chapter of the 300 thousand words book. That's right. Three. Hundred. Thousand. Words. It was the first book in a trilogy.
He was notoriously smug about his work and wouldn't accept constructive criticism no matter how gentle it was given. I don't think he would have accepted it if a gang of 30 dragons held him down and blew fire in his face. He published his book himself back before any kind of standards existed. He worked the crowd and arm-wrestled a few into buying his book which they needed a hand cart to get it to their car.
Aside from him, the day was pleasant enough. I sold quite a few books. I chatted with lots of people who tended to gravitate toward my table for some good 'ol genre fiction. The day wasn't bad at all, until the cheese guy dropped by.
At book festivals, signings, readings, and any other type of event, it's common practice for the author to have a bottle of water, maybe a bag of Skittles, tucked behind their table display. Out of sight of those in attendance. My publisher just happened to have sent along two table posters on foam board which was perfect for concealing a drink and maybe a snack. I had them on either end of the table while I stood in the middle.
I had a bottle of water tucked behind one but no snacks. Then I noticed uniformed waitresses delivering wood platters filled with nuts, and fruit, and mounds of different cheeses to the other authors. I quietly asked one of the waitresses if I could order one. She was happy to bring me what could only be described as a magnificent charcuterie board before they became a thing.
Toasted almonds rolled in sugar? Oh my word. I was living the dream!
I slipped the board behind the other table poster and continued chatting with eager readers, taking a quick sample of the deliciousness in between. And then some guy, a well dressed guy at that, comes up, steps behind my table and whips out a pocket knife and proceeds to cut off a hunk of my cheese. He shoves a few green grapes into his mouth then grabs a handful of my toasted almonds and goes on about his merry way.
I was too stunned to protest or even ask him what the h%$* he was doing.
We all have that one book event that left a lasting impression. What about you? What's yours?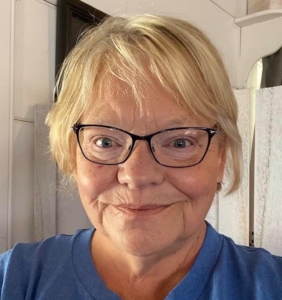 Lynn Chandler Willis comes from a journalism background as the former owner/publisher of a small town newspaper and prefers to make stuff up. She now writes mystery/thriller/suspense and crime novels along with the occasional snarky comment on social media. She's the current President of SEMWA, the Southeast Chapter of Mystery Writers of America, a member of International Thriller Writers (ITW), and a past-president of Sisters in Crime––Murder We Write chapter. She's a Shamus Award finalist, A Grace Award Winner for Excellence in Faith-based Fiction, and the winner of the St. Martin's Press/PWA's Best 1st PI Novel — the first woman in a decade to win the award. She has a new series debuting in November 2022 and another in May 2023 with Level Best Books.
https://www.thestilettogang.com/wp-content/uploads/2022/03/TheStilettoGang-logo-09.png
0
0
Debra
https://www.thestilettogang.com/wp-content/uploads/2022/03/TheStilettoGang-logo-09.png
Debra
2022-10-20 12:51:22
2022-10-20 12:51:22
The Cheese Guy by Lynn Chandler Willis