Excerpt from HOW THE MURDER CRUMBLES
Hi. I'm Debra and I'm an author on a deadline which means I'm working on and thinking about my WIP 24/7. Not only do I have a deadline looming, I have a release in about 50 days of a brand new series. So this is why this month's post will be an excerpt. I seriously can't think of anything to write. My brain is fried and it needs a break from words.
The excerpt below is from my upcoming novel, HOW THE MURDER CRUMBLES, and it's the first book in the Cookie Shop Mystery series. It releases on June 20th in print, ebook and audio formats.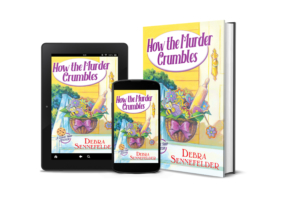 Here's the excerpt and I hope you enjoy meeting Mallory Monroe, a cookiepreneur turned amateur-sleuth.
"Why was the cookie so angry with the baker?" Kip Winslow asked the group of five women as they tied their aprons. He waited for a beat before sharing the punchline.

Mallory Monroe paused as she walked out of the bakery's kitchen. She tried not to roll her eyes at her friend and employee's joke, knowing the punch line was going to be just terrible—and that she'd laugh all the same.

"He had a chip on his shoulder," Kip finished with a chuckle.

The women, who had signed up for the beginner cookie decorating class, laughed at the silly joke. Though Mallory noticed one of them, who had introduced herself as Elana Peterson, barely cracked a smile. Even Kip's worst jokes usually got a small smile. Or a groan. Something.

Once the women were settled, Kip returned to the kitchen to make sure the sugar cookies would be ready to swap out when it came time to start decorating. Mallory took her spot at the farmhouse table she'd found while antiquing. Because of her tight budget, which had no wiggle room, she had to be creative regarding the bakery's décor. But, thanks to flea market trips, learning how to sand and paint, and a lot of elbow grease—hers and Kip's—she had unique furnishings that added the extra oomph she wanted for the bakery.

"Are you ready to decorate?" Mallory looked at each woman, and four out of five nodded enthusiastically. The fifth, Elana, gave only a slight nod, and even that seemed half-hearted. Her friends noticed, and their excitement seemed to temper. Mallory didn't need the group's energy dipping. To keep the upbeat mood— after all, cookies were supposed to make people happy—Mallory quickly launched into the story of how she had become the owner of The Cookie Shop.

"I'm so happy you're here today because I get to share with you my passion for cookies and cookie decorating. When I was a little girl, I visited Wingate and I spent most of my time right here with my Aunt Glenna." Her voice choked, and she wondered when she would be able to talk about her aunt without getting emotional. It seemed like only yesterday Aunt Glenna had given her blessing at the re-grand opening of the bakery.

"She was a wonderful woman," the woman to the right of Elana said. "Excellent baker."

"Thank you. It was here, with her, that I discovered my love for baking and decorating cookies." Mallory blinked, hoping to keep back the tears. She missed her aunt so much. She missed how her aunt smelled of cinnamon, nutmeg, and ginger—her own spicy fragrance from hours of baking. She missed how her aunt whispered, "When it's made with love, the recipe is never wrong," when Mallory messed up a batch of cookies. She smiled at the memories and then continued.

"Back then, I dreamed of being a baker like my aunt. But then life happened. I grew up, got a degree, and found success in advertising."

"You've had quite a change in your life," the gray-haired woman seated across from Mallory said.

"I have. The one thing that never changed, though, was baking and decorating cookies every chance I got. Then one day, I discovered cookie bouquets, and I was hooked. I made them whenever there was a birthday or new baby or promotion." The last word stuck in her throat, and she swallowed hard. She hated to admit it, but she still harbored some bitterness after not getting the promotion she'd worked so hard for. Looking back, perhaps it had been for the best. It was one of the reasons she had taken the biggest leap of faith in her life—buying the bakery. And then changing pretty much everything about it.

"You've certainly made this place your own," said the woman seated next to Elana.

Mallory nodded as her gaze traveled around the bakery. She'd loved the bakery just the way it was, but her vision for the space was more colorful and whimsical than her aunt's had been.

Once the keys were handed over, Mallory had gotten to work. She'd revamped the front of the bakery. The white walls were given a fresh coat of light green paint, and then she added framed wallpaper panels. She chose a floral wallpaper with giant rhododendrons in pastel colors. Over the antique wood floor stood a long console table she'd found at a tag sale. After stripping and painting it lime green, she used it to display a variety of cookie baskets she offered. An oversized, chunky pedestal table in the center of the bakery had also been stripped and then painted a deep coral. She topped it with two smaller pedestal stands. There she displayed smaller cookie baskets and the hand-dipped gourmet apples she also sold.

She continued speaking for another minute, wrapping up her story, and then got to work. For the class, they were making simple cookie pops. Gathered together, they'd make a sweet bouquet. She demonstrated how to roll out the sugar dough, cut out the daisy-shaped cookies, and insert the bamboo stick.

She made her way around the table to check everyone's progress. This wasn't exactly a difficult task. Mallory expected these women to have had some experience with this basic skill of baking.
To celebrate the release of HOW THE MURDER CRUMBLES I'm giving away bookmarks and stickers.
If you send me a screenshot of your confirmed pre-order for HOW THE MURDER CRUMBLES along with you mailing address (US domestic addresses only) I will mail you a bookmark and sticker.
If you get your print books, ebooks or audio books from your local library, send me either a confirmed hold or borrow for the audio or ebook when it's available in your library or a photo of the print book you've taken out of the library. Be sure to include your mailing address. Also, if the book isn't available in your local library, please request it. 🙂
The email address to send your order confirmation is Debra@Debrasennefelder.com or just reply to this email.
Debra Sennefelder is the author of the Food Blogger Mystery series and the Resale Boutique Mystery series.
She lives and writes in Connecticut. When she's not writing, she enjoys baking, exercising and taking long walks with her Shih-Tzu, Connie.
You can keep in touch with Debra through her website, on Facebook and Instagram.
https://www.thestilettogang.com/wp-content/uploads/2022/03/TheStilettoGang-logo-09.png
0
0
Debra Sennefelder
https://www.thestilettogang.com/wp-content/uploads/2022/03/TheStilettoGang-logo-09.png
Debra Sennefelder
2023-05-01 04:18:24
2023-04-30 19:18:58
Excerpt from HOW THE MURDER CRUMBLES