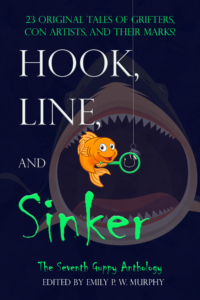 Reeled in by the Hook, Line, and Sinker short story anthology by Debra H. Goldstein
I'm a sucker for a good whodunit. Whether serious or humorous, I find figuring out mysteries challenging and fun. Best of all, I relax and forget anything worrying me while I lose myself in the author's storyline. Timewise, it works best for me when it is a collection of short stories because I can grab short bites of downtime when my schedule allows. That's why I found Hook, Line, and Sinker: the Seventh Guppy Anthology to be delightful.
For those who aren't familiar with the Guppies, that is short for the Guppy Chapter of Sisters in Crime. With over 1000 members, the chapter is an online presence offering a list serv, subgroups, classes, critique groups, craft discussions, and the opportunity to be part of a bi-annual anthology process. For the anthology, a theme is established and then there is an open submission period. Non-Guppy judges evaluate and rank the stories. In this case, the top twenty-three stories dealing with grifters, con artists, and their marks were compiled into Hook, Line, and Sinker, an anthology edited by Emily P.W. Murphy and published by Wolf's Echo Press.
Although every story shows that devious plots and plans don't always go as planned, each story is different. As one turns the pages, one finds characters who range from senior citizens to movie producers to séance attendees. The diversity of the characters, voices, and plots make for an enjoyable read. Contributing authors are Sandra Benson, C.N. Buchholz, Lida Bushloper, Judith Carlough, Kait Carson, Susan Daly, M.R. Dimond, Mary Dutta, Kate Fellowes, Wrona Gail, Vinnie Hansen, Ann Michelle Harris, Kim Keeline, Jane Limprecht, Sally Milliken, M.A. Monnin, A.W. Powers, Merrilee Robson, KM Rockwood, Lisa Anne Rothstein, Steve Shrott, Frances Stratford, and Shannon Taft. The interesting thing is that some, like KM Rockwood, are well-established short story writers, but for others, like Sandra Benson, it is their first publication.
For a fun and relaxing read, I highly recommend picking up a print or e-book version of Hook, Line, and Sinker: the Seventh Guppy Anthology. One disclaimer though, Carol L. Wright and I, on behalf of the Guppies, were the co-coordinators of the project. That said, we handled technical issues, but the stories themselves were blindly picked for their quality. Even without participating behind the scenes, I can honestly say the book reeled me in.
https://www.thestilettogang.com/wp-content/uploads/2022/03/TheStilettoGang-logo-09.png
0
0
Debra
https://www.thestilettogang.com/wp-content/uploads/2022/03/TheStilettoGang-logo-09.png
Debra
2023-01-13 06:00:30
2023-01-02 17:25:41
Reeled in by the Hook, Line, and Sinker short story anthology