Writing Can Save Your Life
We're writing about writing this week at the Stiletto Gang. After a very happy Hallopalooza, and a great big shout-out to Southern Evelyn David for thinking this up while working her tail off at her day job, we're settling back in to posting about the things we love, the things we think about, and the things we'd like others to love and think about. So this week it's writing and I have a lot to say.
Not that that's different from any other week.
The Northern half of Evelyn David and I talk about this quite a bit and she was the impetus behind a talk I gave in Tennessee last year that I called "Writing Can Save Your Life." See, I didn't started writing in earnest until I turned 39. It seemed like I had passed through my thirties thinking "I'll write later" when I was finished potty training, house breaking, and doing lots of little things every day that added up to big things when the day was done. I kept putting it off until a rather round birthday approached and I realized "I am middle aged. I'd better get moving." So I started to write and cranked out Murder 101 in a year, focusing on little else. I started Extracurricular Activities while sending out query letters to agents until the wonderful Deborah came knocking. And I continued writing while I waited to hear from the wonderful Kelley that indeed, she wanted to publish my books. I was so glad I decided to write.
Fate had a different idea of how my story would turn out, though, for on the day that I received my contracts for the first two books in the Murder 101 series, I was also diagnosed with cancer. And not just any cancer, "a bad one" as an acquaintance would say when my husband told her about the news. But instead of focusing on how bad the situation was (and it was) and how I should have been able to focus on the happiness of seeing my dream come true (that's life, baby), I continued to write. I wrote through three rounds of chemo, one horrendous surgery, twenty radiation treatments, more chemo, two biopsies, a clinical trial, more chemo, and finally, the clinical trial that changed my prognosis from dire to positive. Because as bad as Alison Bergeron's life may seem to those of you who read about her in every installment, she has never had cancer and she never will.
What she has is man trouble, murder trouble, and dog trouble. She falls down in too-high heels, a lot. She says the wrong thing at the wrong time and zigs when she should zag. She deals with life's little problems, which to her, seem like huge problems. That's why I love her. And that's why I write.
I love writing, but in particular, I love my characters and try to do the best by them. Because as bad a day as I am having, I can make theirs that much better. I can get out of my own head and into somebody else's. I can let them live happily ever after or make them hit a giant bump in the road, a bump that will soon by smoothed over. They have their ups and downs and hopefully, always end in "up." But ultimately, I always know what's going to happen to them, and that kind of control is hard to come by in the real world.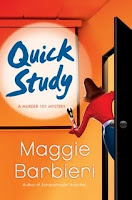 I have been on a lot of medicine and have been attended to by the smartest people the best insurance in the world can get you access to. I'm lucky that way. But I've also been supported by devoted family and friends and despite what I have had to go through, been able to do what I've always dreamed of doing: write. Writing is my passion and it gives me purpose. Without it, I don't know how I would have survived.
Do what you love every day. It doesn't have to be writing, but if it is, make it a point to escape for a moment or two every day and go to your other "world." Because for me, in a very real sense, writing saved my life.
Maggie Barbieri
https://www.thestilettogang.com/wp-content/uploads/2009/11/MaggieBarbieri.jpg
200
132
Stiletto Gang
https://www.thestilettogang.com/wp-content/uploads/2022/03/TheStilettoGang-logo-09.png
Stiletto Gang
2009-11-04 05:00:00
2022-07-05 19:08:18
Writing Can Save Your Life