Sitting Among the Super Stars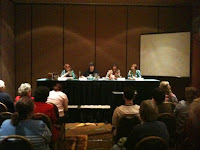 In the photo: me, Donna Andrews, Marcia Talley and Deborah Crombie.
First, let me say, this past weekend at Mayhem in the Midlands was extraordinary.
The con is always held in Omaha, and we've been to this particular mystery event nine times. We've gone so often we've made friends with people who live in Omaha and others who attend this conference on a regular basis.
This year, one of my panels was with the guest of honor, Deborah Crombie, and Marcia Talley, the toast master, moderated by Donna Andrews.
I knew most of the people who attended that panel hadn't come because of my presence on that that panel. Deborah and Marcia are good friends and it definitely shows when they are bantering back and forth. My biggest contribution was making people laugh. One thing I know how to do is offer one-liners.
An interesting, and most rewarding event for me and I think the audience to was a conversation with authors. Radine Nehring, Nancy Pickard and I sat in a circle with audience surrounding us. Radine had come up with many interesting subjects for us to discuss and it worked well. Several people told me it was like eavesdropping on our conversation. I hadn't read Nancy Pickard's work, so before the conference I purchased The Smell of Rain and Lightening (or maybe it's the other way around) and I absolutely loved it.
In fact, for every panel I was on or moderated, if I hadn't ever read anything by the author before, I got the book and read it. Believe me, that really helps–especially when you're on a panel with brand new and nervous authors.
This year besides those two panels, I moderated one and I was on another about Religion in Mysteries. 17 of my books sold, which is the best I've ever done at this conference. Being on panel and being a good panelists helps sell books. Being a good panelist means that you have to be engaging without hogging the panel. (Yes, some authors do hog panels.)
Being on panels and going to them is only one part of attending a mystery con. The people who come and the great conversations you have are another plus. And I can't give a report about Mayhem without saying that the eating at Mayhem is pretty darn good too. There is a reception the first night, and this year they had a mac and cheese bar. You put the mac and cheese in a champagne glass and chose what toppings you wanted from a vast array. Of course they had the usual fruit, cheese, cracker, meatballs etc. for the less daring.
The Sisters in Crime buffet this year consisted of tacos and all the trimmings–delicious.
The hotel for Mayhem is right at the end of The Old Marketplace which is full of wonderful restaurants. Of course we had one lunch at Ahmad's Persian Restaurant, our most favorite. We also ate at the Indian Oven, M's, and a new place called Stokes. Of course we always had a great group of people with us.
When we first arrived, one of our friends in Omaha took us to another restaurant on the other side of town, plus gave us a tour of some of the new things that have been built since the last time we were there. On our last night we also went out with this same gal to another great place, The Upstream Brewery and hubby and I both had their root beer, which is delicious.
Anyway, I'm back, tired and overwhelmed with work.
Marilyn
https://www.thestilettogang.com/wp-content/uploads/2010/06/MayhemPanel.jpg
150
200
The Stiletto Gang
https://www.thestilettogang.com/wp-content/uploads/2022/03/TheStilettoGang-logo-09.png
The Stiletto Gang
2010-06-01 04:06:00
2022-07-05 19:01:52
Sitting Among the Super Stars