The Month for Graduations/New Beginnings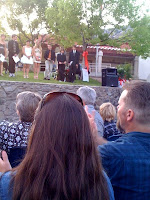 As most of you know, I have a big family and come graduation time I'm deluged with graduation announcements, not so many actual invitations.
My great-grandson, Aaron, invited us to his 8th grade graduation at our little school up here in Springville. We've attended many graduations there and this was one more. Outside with the audience facing the graduates–and the sun–the ceremony never begins until the sun disappears behind the hill.
The clothing worn by the graduates is interesting. The girls wear dressy dresses, some short and some long, and one had an evening gown with a train. A girl in a darling short dress, wore cowboy boots in a matching color. My grandson had a white shirt, tie, and slacks and tennis shoes on his feet. Most entertaining.
This particular great-grandson was one of two really short boys in the class. I'm hoping he'll have a growth spurt this summer as he really wants to play basketball in high school.
I received announcements from a great-granddaughter who has moved with her family to Missouri and one from a great-niece in Las Vegas. I hope I find out what they plan to do now.
A great-granddaughter in southern California graduated from fifth grade. Seems their middle school goes from sixth to ninth. My daughter was kind enough to send photos.
I'm really proud of this young lady. At birth, she stopped breathing for a long enough time to scare everyone. For much of her pre-school years everyone feared she was autistic. She hardly ever spoke, but when she did it was a long sentence with big words that had very little to do with anything.
She began school in special education classes, but soon was changed over to the regular ones as she did so well. She excels in track and field events. She and her older sister both do shot put and discus–and win awards.
All of these graduates are on the threshold of new beginnings. And really, even though most of us have experienced our own graduations–mine were long, long ago–don't we each find ourselves at the end of one part of our lives and stepping into new beginnings at times?
Over the years, there have been many of these occasions for me: marriage, many moves to new places, the birth of children–and then grandchildren–and great-grands, getting published–and it goes on and on. New beginnings face us at many stages of our lives.
Marilyn
https://www.thestilettogang.com/wp-content/uploads/2010/06/grad2.jpg
200
150
The Stiletto Gang
https://www.thestilettogang.com/wp-content/uploads/2022/03/TheStilettoGang-logo-09.png
The Stiletto Gang
2010-06-15 03:44:00
2022-07-05 19:01:33
The Month for Graduations/New Beginnings