by Sparkle Abbey



Everyone has dreams and aspirations. We certainly have big dreams! But why do some people achieve their dreams and others struggle? We believe it comes down to one word—action. We strongly believe setting goals, creating a plan, and working hard creates success. You've probably read a blog or two by us about goal setting. We love goals! They give us a clear picture of what we want and help us map out how to get there.


All of our writer friends know that as 2018 comes to a close, we will kick off 2019 with new goals and an action plan to turn those new Sparkle Abbey dreams into reality. It never takes long for someone to ask us, "What are you working on now?" We love that question for a number of reasons—to test new titles, to talk about the newest Sparkle Abbey project, and to talk about our individual projects.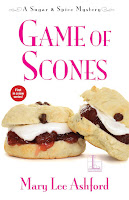 Ah, yes. . . . Individual projects. Maybe you've heard that Sparkle, aka Mary Lee, has been diligently working on her own cozy mystery series under the name of Mary Lee Ashford. We are thrilled to announce that book one, Game of Scones, debuted this week!



It's the first in a new series called the Sugar & Spice mysteries and we think you'll see some similarities to our Pampered Pets books – cozy, twisty, and with a dollop of humor.


The publisher, Kensington Books/Lyrical Press describes it like this:
As co-owner of Sugar and Spice Cookbooks, Sugar Calloway has seen simple confections bring friends together and spark fiery feuds. Except this time, the recipe truly is to die for . . .


We hope you'll check out Game of Scones and celebrate with us the realization of another dream. And as 2018 comes to a close, we wish you much success as you work toward your own goals in 2019.




Special Pricing!


Also one last piece of fun news: Raiders of the Lost Bark, book eight in our Pampered Pets series is on sale for 99¢ in all eBook formats.


Amazon Barnes & Noble Kobo iTunes



Sparkle Abbey is the pseudonym of two mystery authors (Mary Lee Woods and Anita Carter). They are friends and neighbors as well as co-writers of the Pampered Pets Mystery Series. The pen name was created by combining the names of their rescue pets–Sparkle (Mary Lee's cat) and Abbey (Anita's dog). If you want to make sure you're up on all the Sparkle Abbey news, stop by their website and sign up for updates at sparkleabbey.com.

https://www.thestilettogang.com/wp-content/uploads/2018/12/You2Bcan2Bdo2Bit.jpg
168
200
The Stiletto Gang
https://www.thestilettogang.com/wp-content/uploads/2022/03/TheStilettoGang-logo-09.png
The Stiletto Gang
2018-12-06 01:00:00
2022-07-05 17:44:58
The Next Big Thing