Guest Post: Arlene Kay
Today Sparkle Abbey welcomes Arlene Kay to The Stiletto Gang as our guest. Her topic is Pets in Mystery Fiction, a topic that's near and dear to our hearts. Here's what she has to say…
A recent poster on a mystery blog lamented the overuse of
cover art featuring pets. False advertising, she charged! Many of these novels
barely mention a dog or cat yet their images are used to entice cozy readers.
As a mystery writer and ardent animal lover, I offer a different perspective.
Occasionally a pet may grace a cover without any connection to the novel in
question but that is uncommon. Animals are and have always been intimately
connected to crime fiction in different ways. Even the great Sherlock Holmes,
hardly an animal lover, frequently relied on the scenting prowess of Toby the
hound and in Silver Blaze, the key clue was provided by the guard dog that didn't
bark.
Some novels may feature service/military dogs, whose
official job it is to help catch criminals or simply animals that further the
exploits of their human partners. For instance, the late Virginia Lanier's
series featured tracking dogs, while
Diane Kelly
's "Paw Enforcement" series
includes an intrepid K-9 officer and his human partner. One of my all-time
favorites, anchovy lover Lulu the Basset Hound, the brainchild of author David
Handler, is the tireless pal of ghostwriter Stewart Hoag. Other examples
abound. Rita Mae Brown co-authors the Mrs. Murphy series with her tabby Sneaky
Pie Brown. Mrs. Murphy, a spunky feline, marshals her animal pals to help and occasionally save their human mama, Harry, from
harm. In each of these novels, animals play an active and integral part in resolving
the mystery.
For many authors, animals are a constant presence in our
novels as they are in our own lives. While pets may stay in the background,
they help to define the protagonist and advance the plot. For instance, Keats
and Poe, (part of my Creature Comforts series), are retired military canines who
join a rag tag band of rescues residing with Persephone Morgan. They may not
solve the puzzle, but they sustain their human caretaker and enrich her life.
Fans of Lillian Jackson Braun's "Cat Who" series know that the contributions of
Koko and Yum Yum were only vaguely connected to the mystery at hand, but they
defined Jim Quilleran as a most sympathetic character.
I ask you, who can resist a man who nurtures
and loves felines?
From pet salons to dog shows, our animal friends provide
fans with a host of venues and plot devices that enhance their reading
pleasure. Perhaps that old saw is actually true: you can tell a book by its
cover!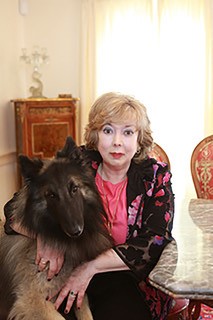 Arlene's Short but Sweet Bio
An artful combination of humor, satire and savagery make
Arlene Kay's tales unique. The published author of nine mystery novels, is a
former Treasury executive who traded the trappings of bureaucracy for the
delights of murder most foul. She wisely confines her crimes to fiction
although like all mystery writers she firmly believes that most deaths are suspicious,
and everyone is a suspect. Her Creature Comforts series from Kensington
(Lyrical), includes Death by Dog Show;
Homicide by Horseshow
; and Therapy by
Murder.
https://www.thestilettogang.com/wp-content/uploads/2019/10/Homicide2Bby2BHorse2BShow2Bby2BArlene2BKay.jpeg
320
213
The Stiletto Gang
https://www.thestilettogang.com/wp-content/uploads/2022/03/TheStilettoGang-logo-09.png
The Stiletto Gang
2019-10-03 01:00:00
2022-07-05 17:35:41
Pets in Mystery Fiction – Partners, Props, or Presence?