This is
my second interview with an author who writes multiple mystery series. My guest
is Leslie Budewitz, current President of the national Sisters in Crime and a
founding member of the Guppy Chapter of SinC. Leslie is the first person to
have won Agathas for fiction and nonfiction.
Death al Dente
, the first
in her Food Lovers' Village Mysteries, won the 2013 Agatha Award for Best First
Novel. Her guide for writers, Books, Crooks & Counselors: How to Write
Accurately About Criminal Law and Courtroom Procedure, won the 2011
Agatha Award for Best Nonfiction. Also, her essay is featured in Writes of Passage:

Adventures on the Writer's Journey

edited by Hank Phillippi
Ryan (Henery Press)
, which
won Agatha and Anthony awards this year. Welcome, Leslie!
Thanks, Paula, for
including me in this series!
How did you initially
decide to write fiction?
I started writing at 4,
on my father's desk. Literally – I did not yet grasp the concept of paper.
Fortunately, my parents were understanding, and kept me readily supplied with
pens and paper. Though while I always wanted to write, I didn't think it was
something you could really do. But I was an avid reader, of course, and
someone was writing those books. In my mid-30s, during a difficult time, I
realized that someone could be me. I wrote the first chapter of my first novel
one afternoon in my firm's law library. But the process of becoming a fiction
writer is a continual series of decisions – to keep writing, to work on the
craft, to learn about the business, and to persevere. So glad I did!
Now, I'm writing two
light-hearted or cozy mystery series. No graphic sex or violence, lots of
graphic food. In the Spice Shop Mysteries, Pepper Reece never thought she'd
find solace and comfort, let alone employment, in bay leaves, but running a
spice shop in Seattle's famed Pike Place Market gives her a new zest for life –
until murder ends up in the mix.
The Food Lovers' Village
Mysteries is set in NW Montana, where I live. After years away, Erin Murphy's
come home to Jewel Bay, a tourist community on the road to Glacier National
Park. She remakes her family's hundred-year-old grocery into the Merc, a
specialty local foods market and commercial kitchen used by the village
chocolatier, the jam maker, and other producers, including Erin's mother,
Fresca, who makes pastas and sauces that Erin sells. While pursuing her passion
for pasta and huckleberry chocolates, Erin discovers a talent for solving
murder.
You have published
short stories. How did those help and continue to influence your career?
Honestly, I never thought
I could write a short story. They daunted me. How could I could tell a story in
less than 80,000 words? But I had a couple of ideas that were clearly short
stories, not novels, and when they came together, and then were published, they
gave me the sense that despite a lot of discouragement, I actually could write
fiction. At about that same time, I wrote my nonfiction book, BOOKS, CROOKS
& COUNSELORS: HOW TO WRITE ACCURATELY ABOUT CRIMINAL LAW AND COURTROOM
PROCEDURE (Quill Driver, 2011). In the process, I realized that as much as I
love helping other writers, I wasn't through telling my own stories. And so, I
recommitted – that decision-making process again – and started my Food Lovers'
Village Mysteries.
Who publishes each of
your series and how did you begin writing each series?
I wanted to create a cozy
series and knew that food themes are popular. Mr. Right and I love to cook and
try new recipes, so I thought we had the culinary chops. The Food Lovers'
Village mysteries introduce readers to a surprising little village very much
like my own – a small town in a gorgeous setting with tremendous food, art, and
theater that delights the many visitors who have a very different idea of what
small-town Montana will be!
When I decided to start a
second series, I wanted a completely different setting. As a student at Seattle
University and later as a young lawyer, I fell in love with the Pike Place
Market and spent many happy hours eating my way through it. When I worked
downtown, I bought most of my produce, cheese, and baked goods there, along
with other treats. It's a terrific setting for an urban cozy – a city within a
city – and readers seem to enjoy the trip as much as I do. Of course, I have to
go there regularly for research – by which I mean "eat."
So while both series are
light-hearted, and feature women who work in food-related retail, the settings
are total opposites. I've worked hard to make the two women and the other
characters distinctive as well.
Both are published by
Berkley Prime Crime. And I must say, I would not have been able to make the
contacts to get the contracts without the support and encouragement of friends
I met through the Sisters in Crime Guppies chapter.
How many books do you
write in a year and what is your publication schedule?
This year is a bit of an
anomaly: By the end I will have written four books and published three. I hope
in future years to write and publish one a year in each series, giving me time
for a few more short stories and another project I have in mind.
Do you write under
more than one name? If so, was that by your choice or a publisher's request?
What "relationship"
do you have as author with each of your series' protagonists?
Erin Murphy, the
protagonist of the Food Lovers' Village Mysteries, is a lot like me in many
ways – she left her native Montana, then returned in her early 30s. She spouts
off snippets from plays and poems with little provocation. Jewel Bay, her
hometown, is a lot like the community where we live, so she lets me dive into
that theme of coming home, only to find that both you and the place have
changed more than you expected. I also get to share my love of this wonderful
state and a town that never fails to surprise visitors!
Pepper Reece, the owner
of the Spice Shop, is a Seattle girl through and through. She lets me indulge
and explore my love of the Emerald City. We both fit the "life begins at 40"
cliché, and as with Erin, I find it a lot of fun to explore an aspect of my own
life through the life of a younger woman with her own talents, quirks, and
choices.
Both love to cook and
eat, and that makes us all great companions!
Setting has an
important role in each series you write. What is your approach to developing a
setting that fuels the story and draws in readers?
It's all about the details
– finding the right ones that create a picture and evoke a mood and flavor for
readers who may never have been to the place you're describing or one like it.
And you've got to know when enough is enough – don't describe a place unless
it's actually important to the story. Setting a book in a real city – Seattle –
is challenging because I want to get it right, and darn it, it keeps changing,
as cities always do. Many people know Seattle – 10 MILLION people visit the
Pike Place Market every year. So I do a lot of research. I keep maps on my wall
and guides to the city close by. I read Seattle newspapers and blogs, and
consult friends who still live there.
Jewel Bay is an easier
place to write about because while it's modeled on a real village, it is ultimately
a place of the heart.
Is it a challenge to
keep coming up with original and inventive plots? How do you do it?
Drink wine and eat
chocolate. Seriously, I can only hope that I don't repeat myself or draw too
heavily on the conventions of the genre. Ultimately, plot comes from the
characters – what do these people want, and what will they do when they don't
get it. The people are the heart of the story.
Since at The Stiletto
Gang we like to delve into shoes and accessories, what are your protagonists'
favorite foot or carrying apparel? (Pictures are welcome!)
Erin counts on her lucky
red boots, and Pepper her pink shoes. I don't actually own either pair – they
are their own women, after all – but I envision Erin's boots like these pictures.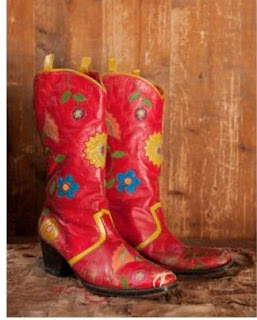 Painting by Leslie's friend, Bigfork artist Nancy Dunlap Cawdrey
Thanks for having me at the Stiletto Gang today. I'd be delighted to give a
copy of GUILTY AS CINNAMON and an adorable gingerbread man tea infuser to a
comment

e

r

!
A Montana native, Leslie graduated
from Seattle University and Notre Dame Law School. After practicing in Seattle
for several years – and shopping and eating her way through the Pike Place
Market regularly – she returned to Montana, where she still practices law
part-time. Killing people – on the page – is more fun.
Leslie
loves to cook, eat, hike, travel, garden, and paint – not necessarily in that order. She lives in
northwest Montana with her husband, Don Beans, a singer-songwriter and doctor
of natural medicine, and their Burmese cat, Ruff, a book cover model and an
avid bird watcher.
https://www.thestilettogang.com/wp-content/uploads/2015/11/Leslie2BBudewitz.jpg
200
168
Paula Benson
https://www.thestilettogang.com/wp-content/uploads/2022/03/TheStilettoGang-logo-09.png
Paula Benson
2015-11-16 00:00:00
2022-07-05 18:12:14
WRITING MULTIPLE SERIES: Featuring Leslie Budewitz