We love to travel. Whether it's just the two of us, with our critique group, or with our husbands, we love the adventure that lies ahead. We've traveled together by plane and car. We've been to Illinois, New York, California, Washington DC, Michigan (on accident), Missouri, Nebraska, Minnesota, Wisconsin, Colorado, Florida, and Texas to name just a few states. We've hopped in the car for book signings, writing conferences, for personal vacations, and even a couple spur-of-the-moment road trips to work out plot problems.
Not only does our traveling together strengthen our relationship, it strengthens our writing. We've explored cozy small towns and bustling metropolitan areas, soaking in the cultures, smells, sounds, and rhythm of the people to color our stories with relatable details and memorable characters inspired by real life.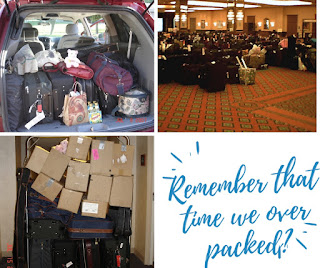 We've brainstormed our best titles on an airplane—Fifty Shades of Greyhound and The Girl with the Dachshund Tattoo. We've stuffed 300 individual dog treats into tiny cellophane bags for conference giveaways, created detailed marketing plans, all while jotting down notes on the conversations we've "accidentally" overheard during a lunch stop at the Cracker Barrel, (they have the best restrooms). For us, travel inspires creativity and helps us focus. We especially love it when we have those famous "ah-ha moments."
When traveling with someone for twenty years (yes, that means we started traveling together since we were twelve), you not only can you finish each other's sentences, but you can communicate an entire conversation with a single look. You know each other's entire routine before bed, how they like their coffee in the morning, and when they're ready for morning conversation—no real talking before the first cup of coffee.
You each know when the other needs their downtime or just a trip to Starbucks.
Traveling with a best friend, you know you'll find adventure. Swimming at midnight. Dinner with an Elvis impersonator. A Rod Stewart sighting. Nonstop talking to the point you've lost your voices. And best of all, permission to act silly. Never judgment, just someone you trust to join in on the fun!
Now we're planning to take a cruise together with our husbands. Who knows what mischief we'll cook up on a ship? We can't wait to find out!
What about you? Do you have someone you enjoy traveling with? What do you like about traveling together?
We also have some exciting news to share! Book 10, The Dogfather, will make its debut September 21st!
It's available now for presale.
About The Dogfather –
Who knew the world of designer purses could be such a dog-eat-dog business?
When a local, designer handbags store owner is found dead, the police first believe it's an unfortunate accident. But the evidence doesn't lie. Before you can say "wiseguy," Bow Wow Boutique owner, Melinda Langston's, former fiancé and undercover FBI agent, Grey Donovan, is the prime suspect.
Now the two are working side-by-side to prove Grey's innocence— nothing personal, just business. Or is it? Suspects are piling up, family secrets are exposed, and no one is who they appear to be, including Mel's newest employee. Time's running out. Mel better sniff out the killer before she and Grey end up sleeping with the fishes.
https://www.thestilettogang.com/wp-content/uploads/2018/09/25E22580259CAs2Bsoon2Bas2BI2Bsaw2Byou252C2BI2Bknew2Ba2Bgrand2Badventure2Bwas2Babout2Bto2Bhappen.25E22580259D.jpg
256
320
The Stiletto Gang
https://www.thestilettogang.com/wp-content/uploads/2022/03/TheStilettoGang-logo-09.png
The Stiletto Gang
2018-09-06 01:30:00
2022-07-05 17:48:37
Highway to Friendship