By Evelyn David
I'm not much of a risk taker. I like sure things. I tend to
err on the side of caution. I hope I'm not a fuddy-duddy, but I tend to stick
to the familiar. That extends to my reading habits.
As you might imagine, I like mysteries. I tend to prefer
traditional mysteries or cozies because as legendary writer Carolyn Hart once
said, in the worlds she create, "the good guys always win."
But I just finished a three-book historical romance series
that I adored. The only mystery was whether the couple I was rooting for would
be together at the end – and the answer was a resounding yes. Hardships and
complications were rampant, but believable, but the good guys and gals did win.
Maybe it is the difficult times we are currently in, but it
was heartening to read about joint efforts, compromise, and a fundamental
belief that love can triumph. Maybe I just needed some "happily ever
after."
But besides delighting in these stories, I also found myself
tempted to try a new genre in my own writing. We've always included a bit of
romance in the Mac Sullivan and Brianna books. But as I finished Ms. Miller's tomes,
I wondered if we might shift the emphasis in a new Evelyn David book, with more
romance and less mystery.
We've got a lot on our plates right now. We're finishing a
new Brianna mystery (that definitely has some romance). But maybe it's time to
take a chance on something new. Kind of exciting – which is what I often forget
about risks. Sometimes they're just fun.
Marian, the Northern half of Evelyn David (off to find a
roller coaster?)
—————


Evelyn David's Mysteries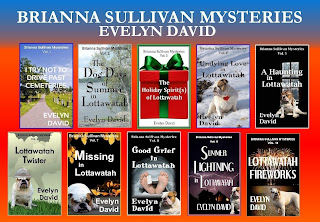 Brianna Sullivan Mysteries – e-book series
I Try Not to Drive Past Cemeteries– Kindle – Nook – Smashwords
The Dog Days of Summer in Lottawatah– Kindle – Nook – Smashwords
The Holiday Spirit(s) of Lottawatah– Kindle – Nook – Smashwords
Undying Love in Lottawatah- Kindle – Nook – Smashwords
A Haunting in Lottawatah – Kindle – Nook – Smashwords
Lottawatah Twister – Kindle – Nook – Smashwords
Missing in Lottawatah – Kindle – Nook – Smashwords
Good Grief in Lottawatah – Kindle – Nook – Smashwords
Summer Lightning in Lottawatah – Kindle – Nook – Smashwords
Lottawatah Fireworks – Kindle – Nook – Smashwords

The Ghosts of Lottawatah – trade paperback collection of the Brianna e-books
Book 1 – I Try Not to Drive Past Cemeteries (includes the first four Brianna e-books)
Book 2 – A Haunting in Lottawatah (includes the 5th, 6th, and 7th Brianna e-books)
Book 3 – Lottawatah Fireworks (includes the 8th, 9th, and 10th Brianna e-books)

Sullivan Investigations Mystery series
Murder Off the Books Kindle – Nook – Smashwords – Trade Paperback
Murder Takes the Cake Kindle – Nook – Smashwords – Trade Paperback
Murder Doubles Back Kindle – Nook – Smashwords – Trade Paperback
Riley Come Home (short story)- Kindle – Nook – Smashwords
Moonlighting at the Mall (short story) – Kindle – Nook – Smashwords

Romances
Love Lessons – Kindle – Nook – Smashwords
https://www.thestilettogang.com/wp-content/uploads/2013/10/MurderOfftheBooksaudiobookpromo500.jpg
207
320
The Stiletto Gang
https://www.thestilettogang.com/wp-content/uploads/2022/03/TheStilettoGang-logo-09.png
The Stiletto Gang
2013-10-21 05:00:00
2022-07-05 18:28:54
Taking Chances