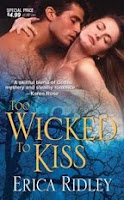 Breaking News: TOO WICKED TO KISS has been selected as a March book club pick for Barnes and Noble! Erica will be at the book club forum all month long, so please stop by to say hi or to talk about the book!
###
Hi Erica! So… how do you feel about murder?
Love it! The fictional kind, anyway. When I was a teenager, I wanted to be the next Stephen King… or write my own series of alphabet mysteries like Sue Grafton. I still love reading thrillers and mysteries and romantic suspense, and my taste in movies and TV runs much the same direction.
For example?
Dexter. I love Dexter! I would never *marry* Dexter, because he admittedly has issues, but as an antihero, he's perfect. That's one element that appeals to me so much about writing Gothic historicals–I can have a hero who's a little bit bad. Or even a lot bad. The more dangerous, the better!
Is Gavin Lioncroft dangerous?
It's common knowledge that he has killed in the past… although nothing was proven, and enough time has gone by that a few hardy souls are willing to overlook that peccadillo in order to attend a house party on his estate. On the first night, however, Gavin has it out with one of the guests… who promptly ends up dead. Gavin's the first to admit it would've been his pleasure to have been the one to do the honors–however, someone beat him to the punch. (As far as alibis go, perhaps he needed something a bit stronger.) Gavin's hunt for the true murderer is on!
Nobody believes he could be innocent?
Not at first. He eventually wins the trust (or at least the reluctant assistance) of Evangeline Pemberton, herself a guest with secrets she prefers to keep hidden. Along the way, the two of them learn to trust, fall in love, and team together to unmask a killer before any other guests wind up dead!
How many other books do you have out?
I am thrilled to admit that I am a debut author, so not only is this my first book, it's also release week! Too Wicked To Kiss is in stores nationwide. The second book, (with an even higher body count, muahahahaaa) hits the stands in 2011.
###
HIS TOUCH HOLDS HER CAPTIVE…
From the ravens circling its spires to the gargoyles adorning its roof, Blackberry Manor looms ominously over its rambling grounds. And behind its doors, amid the flickering shadows and secret passageways, danger lies in wait.
TO HIS EVERY DARK DESIRE…
Evangeline Pemberton has been invited to a party at the sprawling estate of reclusive Gavin Lioncroft, who is rumored to have murdered his parents. Initially, Gavin's towering presence and brusque manner instill fear in Evangeline…until his rakish features and seductive attentions profoundly arouse her. But when a guest is murdered, Evangeline is torn. Could the man to whom she is so powerfully drawn, also be a ruthless killer?
TOO WICKED TO KISS
###
Erica Ridley learned to read when she was three, which was about the same time she decided to be a writer when she grew up. Over the course of her school years, she graduated from self-illustrated stories written in crayon to dramatic sagas filling reams of spiral notebooks. Now, Erica writes Regency-set historical romances, often with a touch of paranormal. Since becoming active in the writing community, all of her manuscripts have finaled in or won various RWA chapter contests. Erica is also the webmistress of her local writing chapter. Her first book, TOO WICKED TO KISS, debuts March 2, 2010. When not reading or writing romances, Erica can be found riding camels in Africa, zip-lining through rainforests in Costa Rica, or getting hopelessly lost in the middle of Budapest.
Get to know Erica at:
Author Website: http://www.ericaridley.com
Book Bonus Features: http://www.2wicked2kiss.com
Facebook: http://www.facebook.com/EricaRidleyFans
Twitter: http://www.twitter.com/EricaRidley
https://www.thestilettogang.com/wp-content/uploads/2010/03/EricaRidley_TooWickedToKiss.jpg
200
124
The Stiletto Gang
https://www.thestilettogang.com/wp-content/uploads/2022/03/TheStilettoGang-logo-09.png
The Stiletto Gang
2010-03-04 05:00:00
2022-07-05 19:04:34
Too Wicked To Kiss