Lazy summer days are perfect for ready a drop dead excellent mystery. Cozies are my favorites. I definitely go through phases, and I'm in one now, devouring as many books as I can, using my time to enjoy new authors and reacquaint myself with old favorites.
Here's a list of some great cozy mystery authors to dive into when you have a lazy summer day.
Agatha Christie = Mystery
Agatha's the goddess of the the murder mysteries. Miss Marple and Hercule Poirot are two of the most recognizable sleuths in fiction and live on even today. Of course I have fond memories of Tommy and Tuppence, too, as my mom named two of our cats Tommy and Tuppence.
Cat Among the Pigeons was one of my favorites (I spent my entire high school career holed up in a math classroom during lunch reading Grand Dame Agatha's books… no dances, no dates, no prom, just mysteries!).
All of her books may not be traditionally cozy, but she'll always be my favorite.
Other authors I'm loving at the moment are:
Wendy Lyn Watson and her mystery ala mode books (book 2 will be out in September!). Ice cream and mystery, what's not to love?
Heather Webber and Truly, Madly, not to mention Deeply, Desperately. Matchmaker mysteries? LOVE them.
Juliet Blackwell and her Witchcraft Mysteries. Now, I am in the middle of this book and I am really enjoying it. It has la Llorona in it! I wrote a romantic suspense that centered on la Llorona, so I was destined to love this.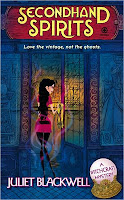 Annette Blair and her Vintage Magic Mysteries. Vintage clothing store, ghosts, and small New England living. Just my cup of tea.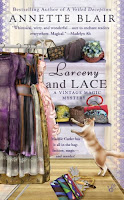 Charlaine Harris and her Aurora Teagarden and Lily Bard Mysteries. I haven't tried Harper Connelly… any thoughts?
These are just a few of the many, many books on my tall, tall stack.
I'd love other suggestions, though, so I know what to move to the top (stiletto books excepted, as the high-heeled lady's books already some of my faves!!).
Go ahead, help me craft my summer reading list!
~Misa
And check out Word Filled Writer's Workshop Wednesday!! ( you can still play along, even though it's Thursday, now! )

https://www.thestilettogang.com/wp-content/uploads/2010/06/agatha-christie-books.jpg
200
186
The Stiletto Gang
https://www.thestilettogang.com/wp-content/uploads/2022/03/TheStilettoGang-logo-09.png
The Stiletto Gang
2010-06-24 05:00:00
2022-07-05 19:01:18
Summer Reading List