Series Stories: Why We Love Them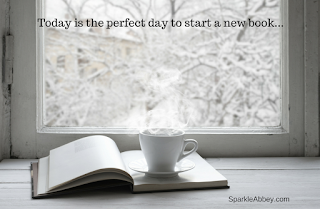 The days are short and the nights are long and in many parts of the country it's really cold outside. The perfect time to immerse yourself in a new book. Or maybe in a new series.
We confess we've often found ourselves hooked on a great series, whether a mystery, a YA, a science fiction story, a fantasy novel, or a family saga. It seems we're not the only ones, readers (and for that matter television viewers) seem to love a series.
What is it we love about them?
Characters – When we've connected with the people in a story, we want to know more. They become friends that we want to hang out with again and again. Peope we care about. Often attachment to the characters in a series is what makes readers pick up that next book.
Setting – The setting of a story can be an element that draws us back. Maybe it's a fictional place that feels very real to us and one we want to continue visiting. Or perhaps it's a real place that's described so well that we feel like we've been off on a trip to a favorite spot.
Unresolved Issues – Frequently with popular series stories, in addition to things that are resolved within the confines of that one book, there are other questions that remain unanswered. Those questions may arc over the course of the series and while the protagonist may make progress in each book, there's still more work to be done.
We read a Forbes article that included some numbers on how many episodes it takes before television viewers are "hooked" on a series. According to Netflix data, three is the median number of episodes neccessary to hook viewers. Although there are a few examples where people were engaged sooner. With books, at least for us, often the first in the series decides whether we'll go on to the next or not.
What do you think? Do you have some favorite series? Book Depository offers this list of what they consider the 20 Best Book Series Ever. Any of your favorites listed there? What is it that brings you back to a series? We'd love to hear your thoughts on why series stories are so popular.



Sparkle Abbey is the pseudonym of mystery authors Mary Lee Woods and Anita Carter. They've chosen to use Sparkle Abbey as their pen name on this series because they liked the idea of combining the names of their two rescue pets – Sparkle (ML's cat) and Abbey (Anita's dog).
The authors co-write the best-selling Pampered Pets Mystery Series which focuses on the wacky world of precious pedigrees, pampered pooches, and secrets in posh Laguna Beach, California. The main characters and amateur sleuths are Texas cousins, Caro Lamont, a pet therapist, and Melinda Langston, a pet boutique owner. The two would join forces and work together if they were speaking, but they're not. Midwest Book Review calls the series "A sassy and fun mystery!"
Desperate Housedogs, the first book in Sparkle Abbey's mystery series is currently on sale for only 99 cents in all ebook formats for a limited time. If you love pets and love light-hearted mysteries, this might be a great time to try out this fun series!
https://www.thestilettogang.com/wp-content/uploads/2018/01/It2527s2Bthe2Bperfect2Bday2Bto2Bstart2Ba2Bnew2Bbook.png
209
320
The Stiletto Gang
https://www.thestilettogang.com/wp-content/uploads/2022/03/TheStilettoGang-logo-09.png
The Stiletto Gang
2018-01-04 01:00:00
2022-07-05 17:55:16
Series Stories: Why We Love Them