IT'S A SMALL
WORLD by Debra H. Goldstein


Recently, I
had the privilege of being a panelist at Murder in the Magic City (Birmingham,
Alabama) and Murder on the Menu (Wetumpka, Alabama). Both are excellent small regional
mystery events.

Murder in the
Magic City, spearheaded by author Margaret Fenton, is held at the Homewood
Public Library each year on a Saturday in February. It usually draws about one
hundred attendees (the capacity of the room) to hear two keynote speakers and three
to four panels of other authors. This
year, the keynoters were Sue Ann
Jaffarian and Lee Goldberg. The panel authors were J.D. Allen, Stella Bixby,
V.M. Burns, Emily Carpenter, Steven Cooper, Matt Coyle, Hank Early, Angie
Gallion, Tony Kappes, Leigh Perry (Toni L.P. Kelner), Linda Sands, Jason B.
Sheffield, Carrie Smith, Christopher Swann, and me.

On Sunday,
the entire group of authors caravanned to Wetumpka for the F.O.W.L. fundraising
luncheon, Murder on the Menu. F.O.W.L, the sponsor, is an acronym for Friends
of the Wetumpka Library. Held in Wetumpka's Civic Center, it is a joy for the
authors – not only were we served a delicious lunch began, but again we had an
audience who were delighted to interact with us at their lunch tables and to
listen to our panels. Of course, the most entertaining panel was Lee Goldberg and Sue Ann Jaffarian. As we learned, they often have been featured together and their wit, humor and genuine respect for each other was evident.
During the
weekend, the authors had an opportunity to get to know each other. I personally
found Sue Ann Jaffarian's personal story to be the most interesting. Not only
is she an acclaimed author, but since retiring after forty years as a paralegal,
she has been traveling the country in Novella, an
RV. She records her journey on
Facebook, bi-monthly on Babble 'n Blog
and through a nightly blog or journal
entry she posts at
https://www.patreon.com/Sueannjaffarian

.

This latter blog is followed by many, including fellow RV
lovers.
That's where the small world comes in.

While I was at the conference, I received an
e-mail from a friend asking if I'd met Sue Ann and what she was like. My reply
was "yes" and "lovely." My friend, who owns the same kind of RV as Sue Ann
(disclaimer: my friend lives in a house most of the time unlike Sue Ann),
explained that she follows Sue Ann's nightly blog and that she is a huge fan.
I shared the e-mails with Sue Ann, who immediately checked
and saw they were online friends. That evening, in her blog post, Sue Ann gave a
shout-out to the weekend and my friend, by name, observing what a small world it is. I
agree.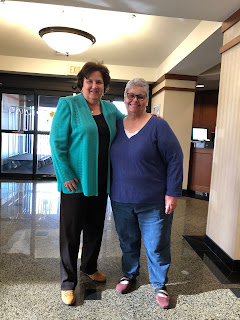 https://www.thestilettogang.com/wp-content/uploads/2019/03/IMG_2891.jpg
240
320
Debra
https://www.thestilettogang.com/wp-content/uploads/2022/03/TheStilettoGang-logo-09.png
Debra
2019-03-08 06:00:00
2022-07-05 17:40:52
It's a Small World