The Pleasures of Summer Reading
As the sun rises higher in the sky and the days grow longer, summer beckons us to bask in its warm embrace. For avid readers, this season presents an unparalleled opportunity to immerse ourselves in the joys of summer reading. Whether it's lounging by the poolside, swinging in a hammock, or picnicking in the park, the enchanting allure of a good book can transport us to magical worlds and make this season even more extraordinary.
Summer reading, with its relaxed pace and open schedule, allows us to delve into a vast realm of literary wonders. It's a time when we can indulge in the stories we've longed to read but couldn't find the time amidst our busy lives. From classic novels, to the latest bestsellers to the next book in a series we love,  our summer reading list is a testament to our love for words and storytelling.
The act of holding a physical book or swiping through the pages of an e-reader becomes a sensory delight in itself. While reading, we may feel the gentle summer breeze caressing our cheeks or the sound of distant laughter mingling with the story, making the reading experience even more immersive.
Moreover, the beauty of summer reading lies in its freedom. We can embrace the liberating feeling of reading for the sheer pleasure of it. We can explore different genres, from romance and mystery to fantasy and science fiction, allowing our minds to wander through various landscapes and realities.
In a world that can sometimes feel rushed and chaotic, summer reading offers a respite—a tranquil oasis where time seems to stand still. It's an opportunity to reconnect with ourselves, find solace, and nourish our souls with words that inspire, provoke thought, and bring a smile to our faces.
So, as the summer sun casts its warm glow upon us, let's celebrate the joys of summer reading. Let's embrace the magic of books and let our imaginations run wild. As avid readers, this season grants us the precious gift of time—the time to read, the time to dream, and the time to revel in the pure pleasure of getting lost in a story. So, let's pick up that book and embark on our summer literary adventures, for the delights of summer reading await!
P.S. My newest release, HOW THE MURDER CRUMBLES, is a perfect summer read. It's currently available at retailers and libraries. If you prefer to get your hardcovers, ebooks or audiobooks from your library be sure to request the book.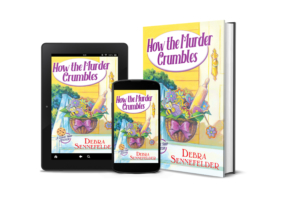 Debra Sennefelder is the author of the Food Blogger Mystery series and the Resale Boutique Mystery series.
She lives and writes in Connecticut. When she's not writing, she enjoys baking, exercising and taking long walks with her Shih-Tzu, Connie.
You can keep in touch with Debra through her website, on Facebook and Instagram.
https://www.thestilettogang.com/wp-content/uploads/2022/03/TheStilettoGang-logo-09.png
0
0
Debra Sennefelder
https://www.thestilettogang.com/wp-content/uploads/2022/03/TheStilettoGang-logo-09.png
Debra Sennefelder
2023-07-03 10:25:17
2023-07-03 10:26:15
The Pleasures of Summer Reading