BOOK LAUNCH NUMBER TWO AND THE TERRIFYING SPECTRE OF SPEAKING ON A PANEL AT BOUCHERCON/23––and that's not all…
Bouchercon Update!
I missed the blog last month due to a technical error on my part … so here are two blogs in one! Might be fun actually, as I have now just returned from Bouchercon and can give a report. The expectation and the realization!
It was terrific—and my panel was fun, I made it through and enjoyed it.
The Debut authors' breakfast was a blast. And may I say, the breakfast was delicious, although I was too nervous to eat much.
A Nice Place to Die was available at the bookstore and sold out. That was worth the trip right there.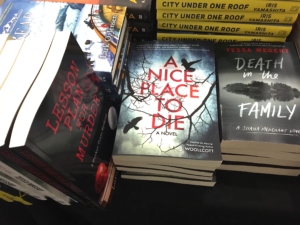 But really, one of the most fun things is meeting and sometimes becoming friends with fellow authors. I met Ann Cleeves briefly and she was very gracious. I got a picture with her. That's it, but I now consider her one of my very best friends.
I did spend some time with the  fabulous Iona Whishaw, Canadian readers  know her well…
And the charming S.M. Freedman, we enjoyed the Awards banquet together. And Caro Ramsey, a Scottish writer of mysteries and suspense, she was terrific and we plan to keep in touch. I was able to reconnect with good friends I'd met before; Judy L. Murray, Lane Stone, Sharon Lynn, just to name a few.
And Shawn Reilly Simmons, my editor, and award-winning author herself.
AUGUST BLOG IN SEPTEMBER 
I leave for Bouchercon in a week or so and it's an exciting prospect. I attended once before In Tampa. I was already in Florida at the time with my husband and decided it was worth the extra expense. As we climbed the steps to the host hotel to register, Ian Rankin walked by reading a guide book. And that about sums the experience up for me. You get to meet your author favourites, listen to wonderful educational sessions on writing, and oh yes, meet people at the bar!
That first time I knew no one. I had the name of an author through a friend and I contacted her, not expecting much. But Marcia Talley was astonishing and friendly and welcoming. I met Sujata Massey, Deborah Crombie and countless others over coffee and at events.
I sat one table over from Lee Child, and extricated the wonderful Lisa Scottoline from an ardent fan. It really was a fabulous experience.
This year I'm going again, this time to San Diego as a published author!
I'm a fairly new writer, compared with my terrific colleagues on the Stiletto Gang, who are all well known and have published many wonderful books across all genres. This time I applied to be on a panel. I don't know the ins and outs of how to get chosen, but in my request I tried to be flexible to different panel ideas but clear that I needed to know something about the subject.
And so, what was that, my subject? What did I know something about? Murder? Well that might not set me apart and help me get a spot on a panel—what with it being a murder/mystery convention and all. I had to dig deeper.
What did I love writing about—apart from murder? What could I bring to a conversation that might make an interesting panel for readers and other writers?
One of the things I realized from talking to readers who bought and enjoyed my book was their interest in the setting, Belfast––and there you have it. Ireland, north and south.
I was surprised at the number of people who expressed a desire to visit Belfast. Once the death knell for a book or writer, famously and forever connected to 'The Troubles,' now miraculously rising from the ashes to become, dare I say it, a favourite tourist destination. We even have cruise ships stopping by with tourists dandering around a city they once watched on the news, with reports of explosions and gunfire all over the place.
But The Troubles are not the focus of my books, because that's not what my stories are about. They're about people who are caught in difficult circumstances. About love and hate and jealousy and finally, murder. All in that wonderful setting. Gloomy and sunbright in turn. Rain and wind, blue skies and gorgeous deserted beaches. And that's what I asked for. I wanted to talk about writing a story set in a country I was born in and love, but no longer live in. How memory and longing play into shaping a book and the characters who populate it. And miraculously I got the word! Yes, a panel. Scary but exciting.
TRAVEL BY THE BOOK: MYSTERIES SET IN OTHER COUNTRIES. Saturday Sept 2 at 8:55am. Please come and listen if you're at the convention. Should be fun.
Now let me tell you all about the Bouchercon Debut Authors' Breakfast… Kidding, I'm kidding.
And a note about the launch of my second book. BLOOD RELATIONS. It's due out in The US in August. Here's a link to Amazon, but you can look for both books, #1: A NICE PLACE TO DIE and #2: BLOOD RELATIONS, at most fine on-line retailers too.
Blood Relations, A DS Ryan McBride Mystery Book #2
Twitter:  @JoyceWoollcott 
https://www.thestilettogang.com/wp-content/uploads/2023/03/JoyceWoollcott.png
326
300
Joyce Woollcott
https://www.thestilettogang.com/wp-content/uploads/2022/03/TheStilettoGang-logo-09.png
Joyce Woollcott
2023-09-15 03:30:07
2023-09-07 12:18:37
BOOK LAUNCH NUMBER TWO AND THE TERRIFYING SPECTRE OF SPEAKING ON A PANEL AT BOUCHERCON/23––and that's not all…