In Search of Moose, Part II by Rosalie Spielman
Please join me in welcoming Rosalie Spielman to the blog! Her wonderful publisher is
donating a portion of the proceeds of her newest book, MURDER COMES HOME, to the DAV.
Details below. — Shari
There's a common joke with mystery writers about their computer search histories being arrest
worthy should we ever be suspects in real life crimes. Which leads me to reflect on mine.
"moose chin thing?"
"how heavy moose"
"picture moose by minivan"
"video moose losing antler"
"moose herds?"
"How long does leather last when buried"
Okay, well, other than that last one, as you can see, my search history is rather moose heavy.
If you've read my Hometown Mysteries, you get why. Magnus the Moose wanders around the
countryside in my stories, presenting himself at opportune times, walking through clotheslines
and &"wearing" a bright red bra on his antler, and in the most recent book, losing an antler.
Of course, I do research to make sure I"m not sharing misleading facts. But also…I like moose.
What can I say? They are weird-looking, but their size is what amazes me and leaves me in awe.
I wrote a blog post last year about my unrequited search for moose on my visits home to Idaho.
The moose is the one creature in the area that has eluded me so far. They are seen
fairly regularly around town, munching away in people's gardens, in fields,
crossing roads, or creeping about in the trees like a quadrupedal sasquatch. I
even saw a video on Facebook of a moose and her calf moseying right down the
center of Troy's Main Street.
My father offered to take me to town to look for one after there was a picture in
the paper of a bull moose walking down Moscow's Main Street. I declined. I
mean, a city moose? Naw.
A month or two ago, there was an emergency text sent to students to give the
moose sighted on [the University of Idaho] campus a wide berth. There were
pictures of a moose peering into the windows of the bookstore and lounging on
the grass in the Arboretum. It seems to me the dang things are everywhere, except
when I'm around.
I go on to say how that about two days after our visit, a moose wandered by my folk's place. On my next un-moosed visit, I hadn't even gotten to the airport yet – which is only twenty minutes away – when a moose again made an appearance.
In order to soften the blow, my parents sent me a beautiful painting of a moose walking through a stream. I've also been gifted a mug, a stuffed moose, moose lip balm, a moose cookie cutter, moose stickers, and, courtesy my father…a moose poop necklace.
Yes, really, and no, I'm not going to show a photo. Moose droppings are actually pretty when they are fresh – they look exactly like unshelled pecans! But the treatment he had to do to the droppings to make them into a necklace ended up making the droppings look exactly like what popped into your head when I said "poop necklace." And no, I haven't worn it. (Sorry, Dad!)
I am headed to Idaho in November for the launch of my third Hometown Mysteries book, Murder Comes Home. I'm actually having my first launch party, right there in the real New Oslo! I think the odds of seeing a moose in the wild on this visit is a little higher than previous.
A month or so ago, they sent this photo of a moose near their home.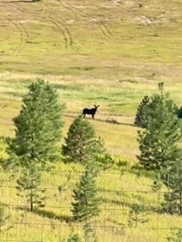 And a week or two ago, this one, on their game cam:
My mother also sent a video of her talking to a moose (who wasn't amoosed) through the fence around their house. It was maybe fifteen or twenty feet from her. (She was on her doorstep and could easily go inside should he get ancy.)
I am hoping, fingers and toes crossed, that this dude will still be around when I am there, and I will finally be able to meet Magnus in the flesh. Or, rather, in the fur.
Wish me luck!
And Magnus, I'll tell you once more – I am making you famous, so you had better make an appearance!
**Gemma Halliday Publishing is donating a portion of the presales to a veterans' charity, the Disabled American Veterans, or DAV.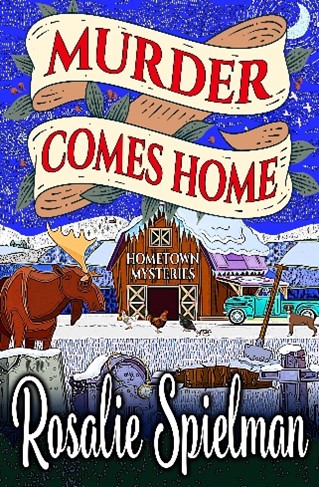 7 November 2023: #3 in the Hometown Mysteries, Murder Comes Home
Preorder: https://www.amazon.com/dp/B0C9S126XG
US Army retiree Tessa Treslow and her Aunt Edna put their auto restoration business on hold to host an "American Pickers" style TV show, hoping their trash might be treasure to fun their new business. But not only do the pickers come with cameras and likeable stars, but also a murderer…
Rosalie Spielman is a mother, veteran, and retired military spouse. She was thrilled to discover that she could make other people laugh with her writing and finds joy in giving people a humorous escape from the real world. She writes for the multi-author Aloha Lagoon mystery series and her own Hometown Mystery series.
She currently lives in Maryland with her husband in a rapidly emptying nest. For more information on her books or to subscribe to her newsletter, go to www.rosalie-spielman- author.com, follow her Facebook page (Rosalie Spielman author) or Instagram (Rosalie.Spielman). Rosalie strives to provide you a cozy escape…one page at a time.
https://www.thestilettogang.com/wp-content/uploads/2021/09/DebraSennefelder-October2019.jpg
200
147
Debra Sennefelder
https://www.thestilettogang.com/wp-content/uploads/2022/03/TheStilettoGang-logo-09.png
Debra Sennefelder
2023-10-06 05:00:56
2023-10-10 17:16:49
In Search of Moose, Part II by Rosalie Spielman