by Paula Gail Benson
When I first became serious about writing, I joined a chapter of the Romance Writers of America, the Lowcountry Romance Writers (LRWA), based in Charleston, S.C. A friend from Columbia and I would travel back and forth on highway I-26E every month (about a 90-minute journey each way) to hear wonderful presentations about craft and marketing as well as to meet other writers and learn about their projects and goals.
My concentration has always been more on mystery and suspense fiction, but for a while the LRWA was the only local active group that provided contacts and insight on the publication industry. I learned a great deal and was very appreciative of the information I received.
A few years ago, I thought about discontinuing my LRWA membership because I had joined several Sisters in Crime chapters and had become involved with the Mystery Writers of America and its regional Southeast chapter (SEMWA). Then, LRWA offered its members the opportunity to have their short stories published in a chapter anthology. I had been writing short stories and felt like I would like to try my hand at romance, so I continued to belong to the chapter. To be accepted for the anthology, each story had to take place during the winter holidays (Thanksgiving to New Years), take place in Charleston, go through two vigorous beta readings, and meet deadlines. In addition, each author had to develop promos to be used in social media. (I have always been impressed that romance writers know how to effectively sell their fiction!) The whole process was like boot camp and it was tremendously successful. Love in the Lowcountry gave both experienced and new writers a chance for publication and the sales made money for the chapter. I felt it a true privilege to be part of the work.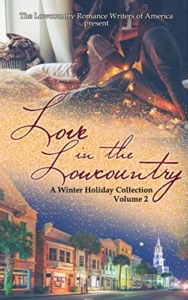 This year, the chapter decided to develop Love in the Lowcountry, Volume Two. Like the first volume, it included established writers along with debut authors. It expanded the holiday season (from Halloween to Valentine's Day) and the territory (anywhere in South Carolina). The eleven included romances feature contemporary and historical settings; time travel, magical realism, and paranormal elements; sweet to spicy storylines; and LGBTQ+ characters.
Here's a brief summary of each story:
"A Sunrise Christmas" by Linda Joyce – In others, Lauren "sees" their heart's desire, but Justice hopes he can open her eyes to love.
"Candlemas" by Paula Gail Benson – Can they find their way through time, and to love?
"Chase" by Suzie Webster – A Lowcountry Liaisons Short Story – He thought love wasn't in the cards, but a second chance may change his luck.
"Edi-Snow!" by HM Thomas – After the storm, the snow won't be the only thing melting.
"Let Me Call You Sweetheart" by J. Lynn Rowan – One disappointed in romance. The other hiding from life. A chance encounter makes them wonder – could this be true love?
"Maeve's Welcome Home" by Addie Bealer – Friends. Lovers. Business rivals. Can they have it all?
"No Regrets" by Robin Hillyer-Miles – Neither planned to be single and sixty but a cute meet and an intense attraction could change all that.
"Second Chances" by Victoria Houseman – Second chances are often the best chances when it comes to love.
"The One That I Want" by Elaine Reed – Charleston welcomed her with open arms, but she longs for a different embrace.
"Watchman's Remedy" by Victoria Benson – Struggling to understand her reality, Cora falls…for an 18th century pirate.
"When It's Meant to Be" by Danielle Gadow – Relationships evolve, but how will they know "When It's Meant to Be"?
By purchasing Love in the Lowcountry, Volume 2, you'll be helping to support LRWA, which in turn will continue to offer authors programs to improve their craft and marketing skills. Please give it your consideration.
https://www.thestilettogang.com/wp-content/uploads/2022/03/TheStilettoGang-logo-09.png
0
0
Paula Benson
https://www.thestilettogang.com/wp-content/uploads/2022/03/TheStilettoGang-logo-09.png
Paula Benson
2022-11-28 01:30:11
2022-11-27 16:01:50
A New Anthology by the Lowcountry Romance Writers of America: Love in the Lowcountry, Volume Two