I read somewhere that clutter is a physical manifestation of unmade decisions, and what creates our clutter is procrastination. I know. There's proof of it right inside my front door.
 Welcome to my living room.
There's a reason why it resembles the loading dock at your neighborhood Goodwill.
After months on the market, I received an offer to buy my mother's place, but only if I handed it over within days, which meant clearing out everything: all the furniture, art, clothes, books, tchotchkes, and mementos from Mom's life and from generations before her.
I sprang into action and gave away furniture to anyone who would haul it off, toted dozens of boxes and bags full of clothing and household items to local charities, lugged a couple of lawn bags heavy with decades of paper receipts to the shredder, and offloaded books (Mom owned hundreds of them) to various collectors. By the closing date, everything was out of there. Whew!
The rest of the stuff landed at my place. Most of the mess is in the living room, but there's more in almost every previously unoccupied space in our home.
During the move-out frenzy, I had to pause my writing schedule. But as soon as I could make a walking path between the boxes, I returned to my desk to finish the third Samantha Newman Mystery. I had to, for my own sanity, and for my wonderful readers who were expecting it months ago. The writing is going well, except for times when the chaos in the living room starts cluttering my mind.
What to do with the 17 pair of gloves that Mom wore to all her fancy lady events? I'll keep a pair or two for sentimental reasons, but my heart won't let me trash the rest. And what about her golf cleats and bowling shoes, and the elegant chandelier that's now crated up and needs a new home? I could go on, and on, and on, and on, but there's no point cluttering this post with the rest of it.
There's a time and a place for everything, or so the saying goes. I hope so. Like Book 3 of my mystery series, the clearing-out is still a work in progress. For now, I'm going to concentrate on finishing the book, except for the occasional bagging and boxing and carting off. Eventually, the mess in the living room will sort itself out. Until then, procrastination can take a seat, if he can find one.
Are you okay with the clutter in your life?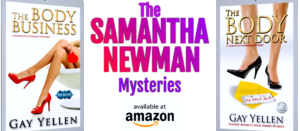 https://www.thestilettogang.com/wp-content/uploads/2022/07/Gay-Yellen.jpg
1617
1155
Gay Yellen
https://www.thestilettogang.com/wp-content/uploads/2022/03/TheStilettoGang-logo-09.png
Gay Yellen
2022-07-12 06:01:34
2022-07-11 23:20:06
Welcome to My Living Room