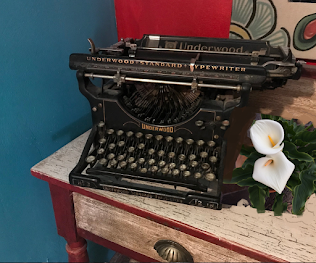 Antique Underwood Typewriter and Calla Lilies
Social media has swept instant and fleeting tidings over
us – the expectation of continuous news snippets. I wondered how this impacts the work of authors. In doing research, I found
an interesting quote from Donna Tartt, the Pulitzer Prize-winning author of
The
Goldfinch
:
"There's
an expectation these days that novels – like any other consumer product –
should be made on a production line, with one dropping from the conveyor belt
every couple of years."
Every couple of years? I was astounded. Quite a few authors, including New York
Times bestselling ones produce at least one book a year, such as Stephen King, Danielle
Steel, Harlan Coben, and Jeffery Deaver. I also know writers who publish four
books a year – and happen to be USA Today bestselling authors. Probably none of
the ones I'm thinking of will be honored with a Pulitzer, but they are
satisfying their fan base by penning multiple novels per year.
ca
Antique Printing Press
It gives the aphorism "publish or perish" a whole new
meaning. The impact on genre authors to keep
publishing new books increases
their fan base, improves their rankings on Amazon, and sustains their
visibility among readers within their genres.
Yet The Goldfinch author takes ten years
(that's right – a full decade!) to write a novel. A literary genius, Tartt has
fans across the globe. Plus, she's backed by big publishing houses and their
gargantuan budgets, here and abroad.
Most of us who write genre would "perish" if we only produced
one novel every ten years.
Selling novels boils down to two basic issues:
A. Storytelling ─ writing a compelling and fascinating
story.
B. Markets ─ how these "consumer products" that Tartt
mentions are advertised and distributed.
In 2018, more than 1.6 million books (both print and eBook
with registered ISBNs) were published in the US alone. You can dismiss a
portion of these as coming from aspiring writers or people doing a memoir for
family purposes. But the point is made ─ the diversity of choices for readers
contributes to the difficulty new authors encounter when trying to distinguish themselves
in a crowded market.
Despite the intense competition, I would not for a minute give
up my writing! It's the most satisfying, and craziest, endeavor I've ever done.
Care to
share how you distinguish your novels in the crowded market?
***
Photo
credits: Kathryn Lane for Antique Underwood Standard Typewriter, Printed page
flying off antique printing press; Bobbye Marrs for Nikki Garcia Trilogy
Kathryn Lane started out as a starving artist. To earn a
living, she became a certified public accountant and embarked on a career in
international finance with a major multinational corporation. After two
decades, she left the corporate world to plunge into writing mystery and
suspense thrillers. In her stories, Kathryn draws deeply from her Mexican background as well as her travels
in over ninety countries.
https://www.facebook.com/kathrynlanewriter/
https://www.thestilettogang.com/wp-content/uploads/2020/11/Typewriter.png
263
316
Kathryn Lane
https://www.thestilettogang.com/wp-content/uploads/2022/03/TheStilettoGang-logo-09.png
Kathryn Lane
2020-11-03 05:30:00
2022-07-05 17:21:08
Mystery and Romance Authors – How Many Books Should You Publish?