International Dog of Mystery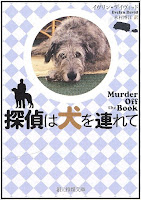 On Tuesday the collective Evelyn David received a pleasant surprise. We got a look at the cover of the Japanese version of Murder Off the Books, the first book in the Sullivan Investigation series. We can't wait to get our hands on an actual copy. We found it interesting that the title has been slightly altered: It's Murder Off the Book (singular) for the Japanese audience.
It was during the Thanksgiving holiday in 2007, that we first received an e-mail from an agent in Japan. The agent contacted us through our website (If you're a writer, don't let anyone tell you that websites aren't important.). She was working for a publisher who was interested in acquiring the Japanese rights to Murder Off the Books.
Thrilled, we forwarded her email to our agent. He assured us that the agent was real, the interest legitimate. Can't remember a Thanksgiving that I've enjoyed more: turkey, dressing, family, and a possible Japanese sale of our novel – doesn't get much better than that.
Like everything in the publishing world, nothing happens quickly. It was spring 2008 before we signed our contract and received our advance. After that it was just waiting to see when the book would be published. We knew this summer when they asked for information about obtaining the rights to use the photograph of the Irish wolfhound on our cover, "Whiskey," that publication of the book was moving forward.
We're going to be keeping our fingers crossed that Japanese readers fall in love with Mac, Rachel, Whiskey, and the Sullivan Investigations gang. If so, maybe they'll want the second book in the series, Murder Takes the Cake.
Maybe in book three we'll send Mac and Whiskey on a trip to Tokyo. I hear they have Golden Arches over there now – anyone who's read our mysteries knows Whiskey loves McDonald's!
Sayonara,
Evelyn David
http://www.evelyndavid.com
https://www.thestilettogang.com/wp-content/uploads/2009/10/MURDEROFFTHEBOOKS-Japanmedium.jpg
200
141
The Stiletto Gang
https://www.thestilettogang.com/wp-content/uploads/2022/03/TheStilettoGang-logo-09.png
The Stiletto Gang
2009-10-08 05:00:00
2022-07-05 19:09:33
International Dog of Mystery