Mystery Conventions: To Go or Not To Go? That is The Question (or at least, the topic of this blog)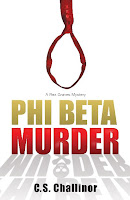 by C.S. Challinor
I just returned from Malice Domestic in Arlington, VA, featuring an all-star cast, including Mary Higgins Clar, Rhys Bowen, and Bill Link, co-writer and producer of, among other TV shows, Columbo and Murder She Wrote. "Malice Domestic," a quote out of Shakespeare, is an apt name for the type of mysteries represented. Held at the Crystal Gateway Marriott, this was the 22nd convention of that name for writers and fans of cozy mysteries, and is home to the Agatha Award. That it has been going on so long and is enthusiastically attended by hundreds of people is a testament to the popularity of the genre.
Writers go to these conventions to meet other authors and, more importantly, the readers, who are, after all, the lifeblood of the publishing industry. These loyal fans are the aficionados, the experts, the dictators of what publishers ultimately buy and agents acquire–so it was instructive to mingle with these VIP readers and run into this special elite in the elevators. I have a composite picture of My Reader. It is from my heart that I write, but She (it is usually a "she") whom I aim to please–a pretty taunting task considering the range and scope of mystery novels cramming the book shelves and vying for attention.
At this point, I would like to give a shout-out to another important group: the volunteers and moderators, who work tirelessly to keep the convention schedule running like clockwork. Patti Ruocco, the moderator of my panel, "Murder in Paradise: Mysteries Set In Vacation Spots," clearly put a lot of thought, effort, and creativity into her task, casting herself in the role of Cruise Director and distributing leis. Fellow panelists were Aaron Elkins, Marcia Talley, and Kathryn R. Wall.
Of specific interest to me among the panels was the talk on poison given by Luci Zahray, a pharmacist in a Texas hospital. I use poison in Christmas is Murder and in the fifth novel in the Rex Graves series, so I was all ears for this one. ("Would you like some wolfsbane with your tea?") Valuable tidbits can be gleaned from these lectures and panels, and it is worth keeping a notebook handy.
I have read in novels about snarkiness among authors at conventions, and was glad not to encounter anything of that sort at Malice, and certainly not among my fellow Midnight Ink authors ;). They proved to be the friendly lot I expected from having read some of their work and perused their blogs. It was a particular pleasure to meet Elizabeth Kane Buzzelli, my partner-in-crime in the Malice Go Round; the irrepressible Sue Ann Jaffarian (three series and a full-time career as a paralegal); and Deborah Sharp, who lives in Florida, as I do; and also Elaine Viets, who writes the Dead-End Job series set in South Florida for NAL/Signet. Malice Go Round, incidentally, is where a pair of authors fly around a room, alighting at 21 tables, and speed-pitch their novels to a handful of readers. It's thirsty work, but people came to my signing based on that event and on my assigned panel, so it was definitely worthwhile.
Probably the crowning moment of the convention for me was talking to Queen of Suspense, Mary Higgins Clark, whose memoirs, Kitchen Privileges, are a page-turner in their own right and reveal gems regarding her personal path to publication. This lady is a class act. My book signing coincided with hers. She'd been signing for the better part of an hour, and I asked her how her hand was holding out. She smiled and said, "Just fine. Authors love signing books!"
Too true!
_______
C. S. Challinor was born in Bloomington, Indiana, and educated in Scotland and England. She now lives in Southwest Florida. She is the author of five titles so far in the Rex Graves Mystery series featuring Scots barrister-sleuth Rex Graves. Visit her on the Web at www.rexgraves.com.
"A must for cozy fans."–Booklist starred review for Christmas is Murder.
https://www.thestilettogang.com/wp-content/uploads/2010/05/PhiBetaMurdersmaller.jpg
200
130
The Stiletto Gang
https://www.thestilettogang.com/wp-content/uploads/2022/03/TheStilettoGang-logo-09.png
The Stiletto Gang
2010-05-10 05:00:00
2022-07-05 19:02:34
Mystery Conventions: To Go or Not To Go? That is The Question (or at least, the topic of this blog)