Inspiration Close to Home
I believe authors–well, most people for that matter, seek inspiration. Perhaps that's why they will stop perusing social media, or a newspaper article, and hone in on a pull quote or a funny or powerful meme. I'm certainly no different. But as a storyteller, I'm fortunate because I find inspiration each an every morning right inside my home. My husband doesn't deliberately try to be funny–he just is. He's a chemical engineer, extremely absentminded, extremely bright, and has a dry wit that people remember.
His funny "Les" stories have often made it onto Facebook where people tell me they belong in a book. I mentioned he's absentminded. Here's one that made it into a post.
Bank Teller from the Drive-thru window: Good morning, Mr. Bell, regarding this transaction, what would you like me to do with it, sir?
Les: Cash it.
Bank Teller: Er, I can't do that. You've sent me your lottery ticket.
Oops. I used to worry when he told me things like this. But it's been that way since the day I met him. One thing that makes up for his absentmindedness is he is extremely motivated and hard working. He put so much into his career that he often travelled Monday through Friday on road trips, Road trips take a toll on the body, and when he was 50, he was diagnosed with prediabetes. His mother had it, so to say we were concerned, is putting it lightly.
His doctor wanted to put him on medication. But Les insisted he wanted to try something else first. He's always been athletic, but there was that weight gain thing, and, along with diet, it would take a while for him to get back into shape. He didn't wait long. Suddenly, he'd be out the door and running around the block. "Where'd you go?" I'd ask. "For a quick run."
I lived a lot of years in my former neighborhood and everyone knew us. All at once, that scenario of running around the block turned into running around the neighborhood, and then into 2 and 5Ks. He joined a running club in Colorado Springs, something that wasn't always the healthiest format, because after the run, there was a whole lot of celebrating–with beer.
Fast forward a a few months, he announced he was ready to do a half marathon of 13 miles. He was so proud of himself after he'd completed it, and he walked around the house calling himself a "Marathon Man." "Not really," I replied. "Technically, you're half a marathon man." He took my teasing well, but as he always does, he kept on trekking.
One day he breezed into the house and announced he'd signed up for the marathon of his dreams. He'd run quite a few by then, so I said, "Where to?" "Antarctica," he replied. My mouth dropped open. "Les, you hate water. You can't swim." "There's that," he replied, "but the marathon only takes a few people per year due to environmental concerns, and you have to sign up. There's a four-year waiting list." I relaxed. He wasn't going anywhere anytime soon.
Four years passed and he got the call. "You're in, Les. You made the cut." Despite his fear of water, I drove this non-swimmer to Denver International Airport, kissed him goodbye for his 17-day adventure and left the airport. A few minutes later he called and said, "Don, (he calls me Don), could you come back? I forgot my passport in the car." (Some things never change.)
He experienced seasickness, and rough water, and even the ocean splashing into his bunk at night. This wasn't a cruise line he was on. It was a charter boat captained by a no-nonsense, serious-minded Russian captain who didn't speak much English. The phone calls were nonexistent and the e-mails were intermittent. But, darned, if he didn't finish that marathon–seasickness and all.
Les wearing his medal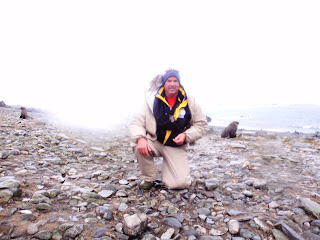 Les posing with his seal friends
Couple married aboard ship by Russian captain. (Les was best man)
Majestic scenery
Antarctica peninsula
As I close out this blog, I'd like to show you the shadow box my sister-in-law made for her brother. It has many of the full marathons Les has run after that scary wakeup call. He has a separate box filled with metals–it's heavy! He's run marathons close to home, the farthest, Seattle, New York, and as I said, Antarctica. The toughest one he'll tell you is the Bataan Memorial Death March, right here in our new home in the deserts surrounding Las Cruces.
Les's shadow box
I'm grateful for the laughter I experience in my house. More importantly I'm grateful for the inspiration. How about you? Do you find laughter and inspiration close to home?
About the Author: Donnell Ann Bell began her writing nonfiction career at the Colorado Springs Business Journal and Pikes Peak Parent Newsmagazine before turning to fiction. An award-winning author, her most recent success is the 2020 Colorado Book Award for Black Pearl, A Cold Case Suspense. Currently she's doing edits for book two in the Cold Case series. To learn more you can find her at www.donnellannbell.com Facebook, Twitter @donnellannbell or Instagram.
https://www.thestilettogang.com/wp-content/uploads/2021/09/Les2Bwearing2Bhis2Bmedal.jpg
240
320
Donnell Ann Bell
https://www.thestilettogang.com/wp-content/uploads/2022/03/TheStilettoGang-logo-09.png
Donnell Ann Bell
2021-09-13 02:30:00
2022-07-05 17:09:53
Inspiration Close to Home