…and readers also love sleuths that solve mystery after mystery after mystery, such as Arthur Conan Doyle's famous protagonist, Sherlock Holmes. The genius detective solved mysteries and crimes during Conan Doyle's lifetime and today continues to be one of the most popular characters in TV crime series.
Sherlock Holmes is the archetypal detective. He uses observation, deduction, and reasoning to solve complex murders, yet it is Sherlock's eccentric personality that endears him to readers and TV viewers.
Is it the personality quirks as well as the detective abilities that keep readers attached to their favorite crime solving characters? It's not just Sherlock Holmes. Protagonists like Craig Johnson's Sheriff Longmire and Michael Connelly's Harry Bosch have not only taken on a life of their own, but they have also become part of a reader's or a viewer's family.
In other words, a series with an appealing protagonist, especially when that protagonist is clever, quirky, and not beyond being arrogant at times, like Sherlock, is golden to an audience. In the reader's mind, those characteristics humanize the detective and make him or her lovable and therefore worthy of being part of the reader's family.
Today, most authors of mystery and detective stories write series. Prolific authors, or those who started writing years ago, may have several series going at one time. Readers who love a character will return time and again to help their favorite detective solve the latest mystery.
The mystery genre is one of the most enduring ones. Let's all continue writing about quirky detectives in stories filled with twists and turns. Let's keep the mystery series going!
***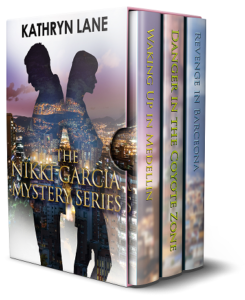 The Nikki Garcia Mystery Series (eBooks version) is on sale from March 7 to March 10 for $1.74.
https://www.smashwords.com/books/view/1345756
Kathryn Lane is the award-winning author of the Nikki Garcia Mystery Series.
In her writing, she draws deeply from her experiences growing up in a small town in northern Mexico as well as her work and travel in over ninety countries around the globe during her career in international finance with Johnson & Johnson.
Kathryn and her husband, Bob Hurt, split their time between Texas and the mountains of northern New Mexico where she finds it inspiring to write.
https://www.thestilettogang.com/wp-content/uploads/2020/06/Sherlock2BHolmes.jpg
240
320
Kathryn Lane
https://www.thestilettogang.com/wp-content/uploads/2022/03/TheStilettoGang-logo-09.png
Kathryn Lane
2023-03-07 01:00:35
2023-03-05 12:31:20
Readers Love Mysteries…