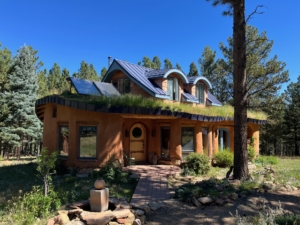 The mountainous terrain of northern New Mexico, where my husband and I spend our summers, makes me aware of J.R.R. Tolkien's clever way of segmenting Middle Earth into various regions. I've let my imagination fly thinking that he set up different regions, and their diverse inhabitants, by using mountain ranges and valleys to map out Middle Earth. With New Mexico's diverse cultural heritage, I can imagine that Tolkien's elves, dwarves, men, hobbits, ents, orcs, and trolls might have been created, each group with their unique characteristics, by studying various cultures and then adding a good measure of fantasy.
Of course, Tolkien was British, not New Mexican, and he was probably inspired by the various European cultures and terrain. Middle Earth, the main continent in his fictional fantasy, was set in a period more than six thousand years ago – so adding fantasy to the saga was essential.
Fascinated by Tolkien's imagination, I let my own inspiration wander through the mountains and the cultures of New Mexico and surmised that a creative mind can entangle extraordinary stories set in the Land of Enchantment. Especially if the stories are set in the ancient past or centuries in the future!
Back to the present: This summer, a good friend invited me to see a 'unique' house. I never envisioned I would be dropped into Middle Earth to experience a hobbit house. Little did my friend know that I love Tolkien's The Hobbit, the prequel to Lord of the Rings, where the hobbit, Bilbo Baggins, is hired by the wizard Gandolf to reclaim the treasure from the dragon Smaug.
The house we visited is known in its neighborhood as The Hobbit House. Even more fascinating is the fact that the owners built their Middle Earth abode using materials taken from the land where they were building.
Their daughter, an architect, prepared the blueprints. She assisted in tree cutting, testing the clay content in the soil, and manufacturing the adobe bricks and puddled adobe used in the construction. As you can see from the exterior and interior photos, they constructed a wonderful home. Imagine building your own and creating such a beauty!
***
Credits: All photos by Kathryn Lane
About Kathryn:
Kathryn Lane writes mystery and suspense novels usually set in foreign countries. In her award-winning Nikki Garcia Mystery Series, her protagonist is a private investigator based in Miami. Her latest publication is a coming-of-age novel, Stolen Diary, about a socially awkward math genius.
For her writing, Kathryn draws inspiration from her travels in over ninety countries as well as her life in Mexico, Australia, Argentina, and the United States.
She also dabbles in poetry, an activity she pursues during snippets of creative renewal. In the summer and fall, Kathryn and her husband, Bob Hurt, escape to the mountains of northern New Mexico where she finds inspiration for her writing.
Personal website kathryn-lane.com
Latest novel: Stolen Diary – a coming-of-age mystery.
Kindle: https://www.amazon.com/dp/B0BSHFRD11
Paperback: https://www.amazon.com/Stolen-Diary-Kathryn-Lane/dp/1735463833/
https://www.thestilettogang.com/wp-content/uploads/2023/10/HH-Charming-Side-Copy.jpg
1512
2016
Kathryn Lane
https://www.thestilettogang.com/wp-content/uploads/2022/03/TheStilettoGang-logo-09.png
Kathryn Lane
2023-10-03 00:37:09
2023-10-02 14:09:10
A Hobbit House!