The Arts Are For Everyone!
The Arts Are For Everyone! by Linda Rodriguez
A few years ago, I was giving writing workshops at a local high school on the wrong side of the tracks. These kids had already been through lots of trauma and stress, though they were only in their teens. These particular twenty kids, however, fell in love with writing, and it offered them a way to deal with broken families, broken hearts, and broken promises. They learned that on their own without me.
I was there to show them that writing can offer them even more. It wasn't easy at first. Some of them started out prickly. It's natural when life's been a hostile environment to be always on guard. It took patience, but we got past that, and they wrote some phenomenal poems.
In the last workshop I had the joy of telling them that their work would be published in an anthology of Kansas City student writing and that they would give a public reading at The Writers Place, the city's stand-alone center for writers and literature. They were pretty excited. This was a kind of validation that they almost never get. And since the poems to be published were from a workshop we did around identity and specific imagery, it was a special kind of validation. They opened their hearts on the page about the good and bad things in their families and their lives, and society said, "You are great just as you are!"
Out of the school population of 348, these twenty kids are winners. They may not be the only ones, of course, and they may not all go on to college. However, they have learned to use language to help themselves through tough times. They have learned to use language to form images of who they are and where they want to go, and that's a prize of incomparable worth.
Linda Rodriguez's 13th book, Unpapered: Writers Consider Native American Identity and Cultural Belonging, was published in May 2023. She also edited Woven Voices: 3 Generations of Puertorriqueña Poets Look at Their American Lives, The World Is One Place: Native American Poets Visit the Middle East, The Fish That Got Away: The Sixth Guppy Anthology, Fishy Business: The Fifth Guppy Anthology, and other anthologies.
Dark Sister: Poems was a finalist for the Oklahoma Book Award. Her three earlier Skeet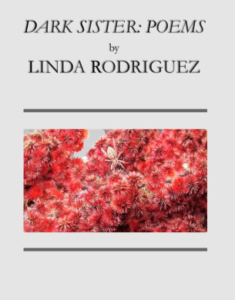 Bannion mystery novels—Every Hidden Fear, Every Broken Trust, Every Last Secret—and earlier books of poetry—Skin Hunger and Heart's Migration—received critical recognition and awards, such as St. Martin's Press/Malice Domestic Best First Novel, International Latino Book Award, Latina Book Club Best Book of 2014, Midwest Voices & Visions, Elvira Cordero Cisneros Award, Thorpe Menn Award, and Ragdale and Macondo fellowships. She also published Plotting the Character-Driven Novel, based on her popular workshop.  Her short story, "The Good Neighbor," published in Kansas City Noir, was optioned for film.
Rodriguez is past chair of the AWP Indigenous Writer's Caucus, past president of Border Crimes chapter of Sisters in Crime, founding board member of Latino Writers Collective and The Writers Place, and a member of International Thriller Writers, Native Writers Circle of the Americas, Wordcraft Circle of Native American Writers and Storytellers, and Kansas City Cherokee Community. Learn more about her at http://lindarodriguezwrites.blogspot.com or follow her on Twitter at https://twitter.com/rodriguez_linda  or on Mastodon at https://mastodon.social/rodriguez_linda.
https://www.thestilettogang.com/wp-content/uploads/2022/03/TheStilettoGang-logo-09.png
0
0
Linda Rodriguez
https://www.thestilettogang.com/wp-content/uploads/2022/03/TheStilettoGang-logo-09.png
Linda Rodriguez
2023-07-07 02:00:00
2023-04-09 17:44:37
The Arts Are For Everyone!