by Gay Yellen
I was a shy child who spent a lot of time reading. At twelve, I fell in love with Shakespeare. I dove deep into the leather-bound tomes that lived on a bookshelf in our den. Comedies, tragedies, history plays. They fascinated me.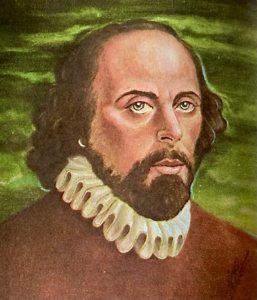 My favorite was Romeo and Juliet. I read Juliet's balcony speech so many times, I had it memorized. Alone in my room, I would act it out over and over again.
O Romeo, Romeo, wherefore art thou Romeo?
Deny thy father and refuse thy name
Or, if thou wilt not, be but sworn my love
And I'll no longer be a Capulet.
Fast forward to college, when I needed one more requirement to graduate: a semester of Shakespeare. Rather than take it during the school year at my alma mater, I opted for a summer course offered by a university in my home town.
That decision almost ruined Shakespeare for me forever.
Instead of teaching us about Shakespeare's gift with language, or the political tenor of the times, or the nature of tragedy, etc., the professor went on for hours interpreting his characters through an extreme Freudian lens. In every play, he'd point out that a dagger or sword represented the male sexual apparatus, poison stood for the biological exchange of body fluids, and so on. (Please don't ask me about Desdemona's handkerchief.)
Of course, Shakespeare plays can be bawdy, sensual, and full of innuendo. But that professor made everything icky. A summer (and tuition) was wasted. At least I got the credit, and I've learned a lot more since then, like this:
Shakespeare never meant for Juliet's "balcony" speech to be delivered from a balcony.
According to a recent article in The Atlantic, that particular architectural construct did not exist in England when the play was written. Nor did the word "balcony" exist in the English language at the time.
Well over a decade after the play was first performed, a British diarist in Italy marveled at something he'd never seen in England: "a very pleasant little tarrasse, that jutteth or butteth out from the maine building, the edge whereof is decked with many prety litle turned pillers, either of marble or free stone to leane over… that people may from that place… view the parts of the City."
If my old professor had known his history, I'm almost sure he wouldn't have missed the chance to mention the thing that "jutteth" and "butteth."
It's okay to reinvent Shakespeare's works with spoofs and spinoffs. Many writers have done it, and still do. Shakespeare borrowed from other writers, too.
The other day, I accidentally came across Shakespearean Hokey Pokey, in which punste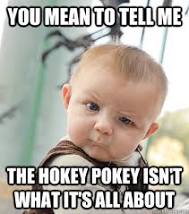 rs attempt to set their own Elizabethan-style lyrics to the tune of the popular children's dance.
Hokey Pokey Shakespeare could also describe my bizarre Midsummer Night's Dream experience in that weird professor's classroom. But if you love The Bard, that's not what it's all about.
How do you feel about Shakespeare?
Gay Yellen writes the award-winning Samantha Newman Mystery Series: The Body Business, The Body Next Door. Coming soon, The Body in the News.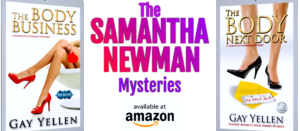 https://www.thestilettogang.com/wp-content/uploads/2022/07/Gay-Yellen.jpg
1617
1155
Gay Yellen
https://www.thestilettogang.com/wp-content/uploads/2022/03/TheStilettoGang-logo-09.png
Gay Yellen
2022-08-09 06:15:24
2022-08-12 17:16:59
Hokey Pokey Shakespeare