Dear  Stiletto Gang Readers: I am pleased today to welcome Author Annette Dashofy to The Stiletto Gang blog. I've beta read her Detective Honeywell series and all I can say is you're in for a roller coaster ride treat!  ~ Donnell
Most writers I know share one common problem. Character names. Not only do we need to create a name that feels "right" for that character, we need to make sure it doesn't break any of the "rules."
For instance, we shouldn't have multiple characters with the same first initial. In the real world, you might have Sharon, Susie, Stephanie, and Sandra all in the same room and be able to tell them apart, no problem. But in a book, readers tend to see the first letter and skim over the rest, causing confusion. This is one of the things my critique buddies almost always catch. The guilty party then bangs our head against the table.
The dreaded duplicate first initial issue becomes even trickier when writing a series. I've had a character from an earlier book…one I never planned to have show up again…return and come into close and frequent contact with another character created in another earlier book…and they both have the same first initial. And since they've already been established in a published novel, I can't change either name.
Adding to the befuddlement are town names. In my Zoe Chambers series, one of my regular secondary characters is Detective Wayne Baronick. Wayne works for the county police department, which is based in Brunswick. Yes, Baronick works in Brunswick.
Why did no one point this out to me before publication? Now I have to live with it.
But I've upped the ante with my new Detective Honeywell series, which is set in Erie, PA. One of the main characters is Emma Anderson, a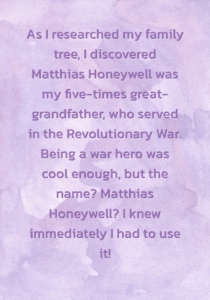 recent transplant to the city. Yes, Emma now lives in Erie. This is bad enough, but Emma has a friend from back home, named Eric. (Do you see where this is going?) Eric is a very minor character in Where the Guilty Hide. He lives back in Emma's hometown and only appears in phone calls and texts. As I created him, I had no plans to bring him back in future books. But I'm working on the second in the series, and Eric has insisted on becoming a bigger character. So now I have Emma and Eric in Erie.
Just shoot me now.
Another issue with character names crops up when the writer discovers the name we've chosen is already taken by some celebrity who may not appreciate a namesake who's a crazed killer, even a fictional one. I do my best to Google the names I choose, especially for the despicable bad guys.
I don't think there's a name out there that hasn't been used.
Honestly, I had big plans to avoid all these pitfalls when I started writing the Detective Honeywell mysteries. Take Matthias Honeywell and Emma Anderson for example. Emma Anderson was my maternal grandmother. I always loved her name. And I don't believe any of her heirs will sue me for using it.
Emma (the character) has a sister named Nell Anderson. Nell was Grandma Emma's nickname. (Her middle name was Nelena.) So, I got two characters from one grandparent.
But where on earth did Matthias Honeywell come from, you ask?
A few years ago, I fell into the trap of signing up for Ancestry and was immediately hooked. As I researched my family tree, I discovered Matthias Honeywell was my five-times great-grandfather, who served in the Revolutionary War. Being a war hero was cool enough, but the name? Matthias Honeywell? I knew immediately I had to use it!
Even as unique as it is, I still managed to write myself into a first-initial corner. Matthias's partner in the Major Crimes Unit is Detective Cassie MALONE.
Matthias and Malone.
I give up.
Fellow writers, do you have character name horror stories you could share? And readers, do these things trip you up when you're immersed in a novel? (If so, I'm deeply sorry.)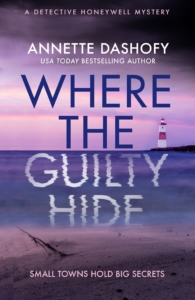 About the Book: On the shore of Lake Erie, Pennsylvania, a body lays half hidden, the waves slowly moving it with the rising tide…
In the early morning mist, freelance photographer Emma Anderson takes pictures of the rocky coastline. She moved to Erie to escape a past that haunts her but the last thing she expects to capture is a dead body.
Erie City Police Detective Matthias Honeywell has been investigating a spate of home invasions but when one of the robbery victims turns up dead, his case evolves into homicide. Emma's first encounter with Detective Honeywell leaves her shaken when he reminds her of her ex-fiancé-turned-stalker. Matthias misinterprets Emma's anxiety and suspects she knows more than she's letting on.
With the threat of another murder and no obvious leads, will Emma and Matthias overcome their mutual distrust and work together to capture a killer?
About the Author: USA Today bestseller Annette Dashofy is the author of over a dozen novels including the five-time Agatha Award nominated Zoe Chambers mystery series about a paramedic-turned-coroner in rural Pennsylvania. Her standalone novel, Death By Equine is the 2021 winner of the Dr. Tony Ryan Book Award for excellence in thoroughbred racing literature. Where the Guilty Hide (One More Chapter/HarperCollins UK, January 20, 2023) is the first in her new Detective Honeywell series set on the shores of Lake Erie.
https://www.thestilettogang.com/wp-content/uploads/2022/03/TheStilettoGang-logo-09.png
0
0
Donnell Ann Bell
https://www.thestilettogang.com/wp-content/uploads/2022/03/TheStilettoGang-logo-09.png
Donnell Ann Bell
2023-01-09 06:01:19
2023-01-08 15:03:29
What's in a Character Name?