Delighted to welcome Judy Penz Sheluk as my guest this month. The characters in her books are always so realistic and fun that I was thrilled she picked them to talk about. Enjoy! – Debra
Creating (and Eliminating) Secondary Characters by Judy Penz Sheluk
Several years back I had the pleasure of attending an event that featured Giles Blunt, author of the much-lauded Detective John Cardinal mystery series (if you haven't read him, or watched the TV series, Cardinal, based on his novels, you must). At one point in the evening, an audience member asked Blunt why he'd killed off Cardinal's wife, Catherine, in By the Time You Read This, the fourth book in the series. Blunt had laughed and then said, "Truthfully, I got tired of writing about her."
Maybe it's "fourth book syndrome," but I felt the same way about the cast of secondary characters I'd created for my Marketville Mystery protagonist, Calamity (Callie) Barnstable as I started to write Before There Were Skeletons.
If you're not familiar with them, they included: Misty Rivers, a self-proclaimed psychic; Chantelle Marchand, Callie's best friend, also a personal trainer and budding genealogist; and Shirley Harrington, an archives librarian. All three of them served important roles (with varying degrees of involvement) in the first three books, but with the last book (A Fool's Journey) released in 2019, it just seemed to me that by 2022 their lives would have changed.
Of course, I didn't ditch them without a mention—that would be unfair to the characters, as well as to followers of the series—and unlike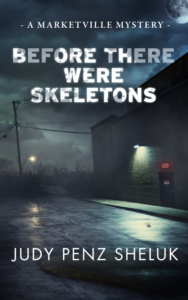 Blunt, I wasn't ready to kill them off. After all, I might want to bring one or more of them back some day. And so, I gave Misty a very small, but important role, allowed a glimpse into Chantelle's new life, and retired Shirley (literally), sending her to winter in Florida (hey, she's Canadian and snowbirds love Florida).
Dispatching those characters felt liberating, but it also left me with a hole to be filled. Enter a tech-savvy twenty-four-year-old woman currently employed as a waitress at her stepbrother's diner, Eggstravaganza, and, thanks to an ex-boyfriend who drained their joint bank account, is also living in an apartment above the diner.
What this new character lacks in investigative experience will be made up for in her enthusiasm to learn from Callie while doing boring grunt work, like digging through newspaper archives. This works well in two ways: it frees Callie up to tackle more interesting avenues, and since the story is told from Callie's point of view, I can also spare readers the tedium of the archival research.
In addition to creating a past and a present for my new character, however, I also needed to come up with a name. I had the last name, Hopkins (in homage to a late friend), but hadn't quite come up with a first name. And then, while reading the closing credits of Yellowstone, I spotted the name Denim Richards (a fabulous actor who portrays ranch hand Colby Mayfield).
Denim Hopkins, I thought. No reason Denim couldn't be female. In fact, it was perfect. And her half-brother, the one who owns the diner? Levi, of course. As Denim explains to Callie, "I guess you could say my mama liked the blues."
Early readers of Before There Were Skeletons seem to like Denim, and as an author, I can envision several directions to expand on her role in the future. What those directions are, only time, and my imagination, will tell.
About Before There Were Skeletons: The last time anyone saw Veronica Goodman was the night of February 14, 1995, the only clue to her disappearance a silver heart-shaped pendant, found in the parking lot behind the bar where she worked. Twenty-seven years later, Veronica's daughter, Kate, just a year old when her mother vanished, hires Past & Present Investigations to find out what happened that fateful night.
Calamity (Callie) Barnstable is drawn to the case, the similarities to her own mother's disappearance on Valentine's Day 1986 hauntingly familiar. A disappearance she thought she'd come to terms with. Until Veronica's case, and five high school yearbooks, take her back in time…a time before there were skeletons. Universal Book Link: https://books2read.com/u/mqXVze.
About the Author
A former journalist and magazine editor, Judy Penz Sheluk is the bestselling author of two mystery series: The Glass Dolphin Mysteries and the Marketville Mysteries. Her short crime fiction appears in several collections, including the Superior Shores Anthologies, which she also edited.
Judy is a member of Sisters in Crime, International Thriller Writers, the Short Mystery Fiction Society, and Crime Writers of Canada, where she served as Chair on the Board of Directors. She lives in Northern Ontario on the shores of Lake Superior.
Photo (if you choose to use it) is of Denim Richards, the inspiration behind the name of Denim Hopkins.
https://www.thestilettogang.com/wp-content/uploads/2022/03/TheStilettoGang-logo-09.png
0
0
Debra
https://www.thestilettogang.com/wp-content/uploads/2022/03/TheStilettoGang-logo-09.png
Debra
2022-11-11 06:00:42
2022-10-02 15:43:01
Creating (and Eliminating) Secondary Characters by Judy Penz Sheluk